Fisher Investments on Consumer Staples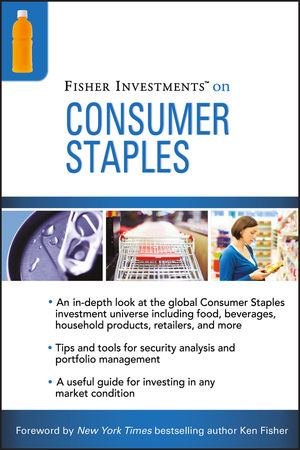 Fisher Investments on Consumer Staples
ISBN: 978-0-470-49815-6 June 2009 240 Pages
Description
The third installment of the Fisher Investments On series is a comprehensive guide to the Consumer Staples industry—which includes companies that manufacture and sell food and beverages, tobacco, prescription drugs, and household products, to name a few.

This reliable resource provides you with the tools to help you understand and analyze opportunities within today's global Consumer Staples sector. With this book as your guide, you can quickly become familiar with how the Consumer Staples sector is segmented by industries, their respective macroeconomic drivers, and the challenges facing companies in this sector. Additionally, there are chapters dedicated to explaining many of the unique aspects of Consumer Staples products in emerging markets and security analysis techniques focused on Consumer Staples firms.

You don't have to be a professional to learn to better invest in the Consumer Staples sector—but you do need to be prepared. Fisher Investments on Consumer Staples can help get you up to speed in this area and help you make better decisions through any market conditions.

For more information visit www. consumerstaples.fisherinvestments.com
Foreword.
Preface.
Acknowledgments.
Part 1: Getting Started in Consumer Staples.
Chapter 1: Consumer Staples Basics.
Overview.
Consumer Staples, Meet Your Distant Cousin—Consumer Discretionary.
An Introduction to the Business Cycle's Winds of Change.
Boring Can Be Beautiful.
Chapter 2: History of Consumerism in America.
Colonial America and Consumerism.
Mass Production in the Late 19th Century.
The Roaring Twenties and the Consumer Economy (1921-1929).
Mass Marketing & the Modern Day Consumer Products Industry.
The Modern Landscape and What to Expect In the Future.
Chapter 3: Consumer Staples Sector Drivers.
Economic Drivers.
Political Drivers.
Sentiment Drivers.
Part 2: Next Steps: Consumer Staples Details.
Chapter 4: Consumer Staples Sector Breakdown.
Global Industry Classification Standard (GICS).
Global Consumer Staples Benchmarks.
Food, Beverage & Tobacco.
Household & Personal Products.
Food & Staples Retailers.
Chapter 5: Challenges in the Consumer Staples Sector.
Challenge #1—Growing in Mature Industries.
Challenge #2—Dealing With Volatile Input Costs.
Chapter 6: Consumer Staples in Emerging Markets.
Opportunity Knocks.
Emerging Markets and Consumer Products.
Investment Idiosyncrasies.
Part 3: Thinking Like a Portfolio Manager.
Chapter 7: The Top Down Method.
Investing is a Science
the Top-Down Method
Top-Down Deconstructed
Managing Against a Consumer Staples Benchmark
Chapter 8: Security Analysis.
Make Your Selection.
A Five-Step Process.
Important Questions to Ask.
Chapter 9: Consumerize Your Portfolio - Investing Strategies.
Strategy #1: Playing the Market Cycle.
Strategy #2 – Playing Style Shifts.
Strategy #3 – Develop New Categorizations.
Implementing Your Strategy.
Appendix: Consumer Staples Sector Resources.
Notes.
Glossary.
About the Authors.
Index.