Fisher Investments on Emerging Markets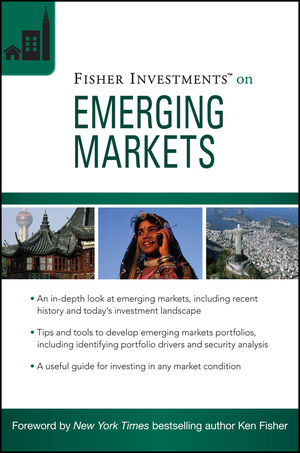 Fisher Investments on Emerging Markets
ISBN: 978-0-470-45236-3 December 2009 240 Pages
Description
The fifth installment of the Fisher Investments On series is a comprehensive guide to understanding and analyzing investment opportunities within emerging markets. Growing in relative importance in recent years, emerging markets offer dynamic and unique opportunities. Fisher Investments on Emerging Markets can benefit both new and seasoned investors, covering everything from regional basics to country-specific insights to practical investing tactics, including common pitfalls to avoid.

This book begins with an overview of emerging markets, followed by a historical narrative of the major emerging market regions—with emphasis on the economic, political, and sentiment drivers that help shape the investing landscape.
Discusses regional, and even country-specific, drivers.
Examines the major regions, including Russia, China, Latin America, and Asia.
Addresses the challenges unique to emerging and developing regions, and some common pitfalls to avoid.
Delves into top-down investment methodology as well as individual security analysis.
Outlines a five-step process to help differentiate firms in emerging markets—designed to help you identify ones with the greatest probability of outperforming
Provides investment strategies for a variety of market environments
Filled with in-depth insights and expert advice, Fisher Investments on Emerging Markets provides a framework for understanding emerging markets. With this book as your guide, you can quickly gain a global perspective on emerging markets and discover strategies to help achieve your investing goals.
Foreword.
Preface.
Acknowledgments.
Part I Going Backward to Move Forward.
Chapter 1 The Five Ws of Emerging Markets.
Who or What?
Where?
When?
The Most Important Question—Why?
But How?
Chapter 2 Lions, Tigers & Dragons, Oh My!
Roar of the Tigers.
To the Brink of Extinction—The Asian Financial Crisis.
Crisis Causes.
Lessons and Legacies.
The Dragon Unleashed.
The History of China's Stock Market—A Lesson in Supply and Demand.
Chapter 3 Latin America and the Vagaries of Boom and Bust.
The Political Economy of Latin America.
Till Debt Do Us Part—The 1982 Crisis.
The Tequila Crisis.
Chapter 4 From the Ruble of the Iron Curtain to the Legacy of Apartheid.
The Ruble of the Iron Curtain.
The Wild, Wild East.
Crisis Strikes Again—The 1998 Ruble Crisis.
Putin and the Modern Soviet State.
The Legacy of Apartheid—Race and Markets.
Part II Developing an Emerging Markets Strategy.
Chapter 5 From the Past to Today—How to Approach Emerging Markets.
Prelude to a Portfolio: Choosing a Benchmark.
Getting Started: Emerging Markets Today.
The Best Wayt to Think about Emerging Markets.
Putting It Together: The Top-Down Method.
Top-Down Deconstructed.
Examples of Quantitative Factor Screenings. 
Chapter 6 Developing Portfolio Drivers.
The Importance of Portfolio Drivers in Emerging Markets.
The Proper Perspective.
Identifying Portfolio Drivers.
Translating Drivers Into Portfolio Allocation Decisions.
An Illustration in Analyzing Portfolio Drivers—Brazil During the 2003-2007 Bull Market.
What Can Drive Emerging Markets as a Category.
Getting Information to Develop Drivers.
Chapter 7 Security Analysis.
Make Your Selection.
A Five-Step Process.
Other Important Questions to Ask.
Chapter 8 Putting it Together.
Two Initial Considerations.
Instruments for Investing in Emerging Markets.
Common Challenges and Risks.
The Future—Frontier Markets.
Notes.
About the Author.
Index.