Fishing for Dummies, 2nd Edition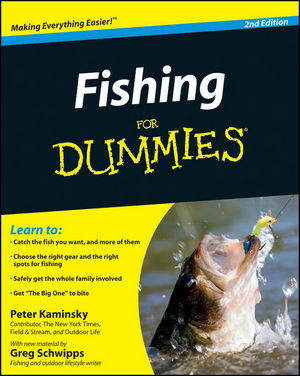 Fishing for Dummies, 2nd Edition
ISBN: 978-1-118-00050-2
May 2011
384 pages
Description
Make fishing easier and more rewarding every time you pick up your rod and reel
No one can promise that you will catch fish all the time. For as long as we've been catching fish, fish have been outsmarting us. But there are tips and pointers that even the most seasoned anglers can pick up!
Fishing For Dummies helps you prepare for what awaits beyond the shore. From trout to carp and bass to bonefish, you'll get coverage of the latest and greatest techniques to fish like a pro.
The latest in fishing line and equipment technology, including new electronics and gadgets
An expanded section on casting methods for spinning tackle and bait casting
8 pages of full-color fish illustrations
If you're one of the millions of people who enjoy fishing, whether for fun or sport, this hands-on, friendly guide gives you everything you need to keep "The Big One" from getting away!
Introduction.
Part I: Before the Bite.
Chapter 1: Getting Hooked on Fishing.
Chapter 2: Gathering What You Need to Fish.
Chapter 3: Finding and Evaluating Water for Fishing.
Chapter 4: Putting a Face on the Fins: Common Freshwater Fish.
Chapter 5: Familiarizing Yourself with Common Saltwater Fish.
Chapter 6: Staying Safe On (Or Near) the Water.
Part II: Gearing Up Without Going Overboard.
Chapter 7: Hot Rods and Cool Reels.
Chapter 8: The Bottom Line on Line.
Chapter 9: It's Terminal (Tackle): Hooks, Sinkers, Snaps, Swivels, and Floats.
Chapter 10: Going Ahab: Fishing from Boats.
Chapter 11: Gadgets Galore: Fishing in the 21st Century.
Part III: The End of Your Line: Enticing Fish with Bait, Lures, and Flies.
Chapter 12: Real Food for Real Fish: Using Bait.
Chapter 13: It Only Looks Alive: Tricking Fish with Lures.
Chapter 14: Fish Don't Fly, But Flies Catch Fish.
Part IV: Now You're Fishing.
Chapter 15: Tying Popular Fishing Knots and Rigs.
Chapter 16: Choreographing Your Cast.
Chapter 17: Exploring Different Fishing Techniques.
Chapter 18: How to Hook, Fight, Land, and Release a Fish.
Part V: After the Catch.
Chapter 19: Photographing and Preserving Fish for Posterity.
Chapter 20: Cleaning Fish for the Table.
Chapter 21: Biting Back: Cooking and Eating Fish.
Part VI: The Part of Tens.
Chapter 22: Ten Fishing Lessons You Don't Have to Learn the Hard Way.
Chapter 23: Ten Ways to Get Kids Involved in Fishing.
Index.