Fit Pregnancy For Dummies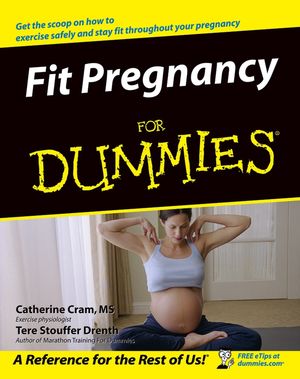 Fit Pregnancy For Dummies
ISBN: 978-0-764-55829-0
Jul 2004
336 pages
Description
Are you intrigued by the idea of working out during pregnancy, but think it can't be safe? Are you unsure how the words fit and pregnancy actually make sense in the same sentence? If so, you've come to the right place. This easy-to-follow guide shows you how you can be fit and pregnant, whether you're new to exercise or have been working out for years, and whether you're in your second week of pregnancy or your 32nd.

Fit Pregnancy For Dummies is for you if you're pregnant, if you're thinking about becoming pregnant, and You want to be as fit and healthy as you can be — whatever your current fitness level — without in any way jeopardizing your health or the health of your baby. This guide gives you the straight facts on:
Staying safe when you exercise
Developing a plan with your health provider
Choosing the right equipment
Modifying your routine for each trimester
Eating well for nine months and beyond
From yoga and swimming to weight training, aerobics, and much more, you'll see how to get started with a fun, step-by-step fitness routine that will make your entire pregnancy easier to manage. Postpartum expert and prenatal fitness class instructor Catherine Cram and fitness expert Tere Stouffer Drenth give you the scoop on the activities that work best for pregnant women and how to set up a routine that works best for you. You'll understand how a fit pregnancy helps you with delivery and postpartum shape-up. Plus, you get expert advice on activities to avoid, eating well, and staying motivated during and after your pregnancy, as well as:
Dressing comfortably for your workout
Warming up and stretching to increase flexibility and avoid injury
Modifying your exercise routine
Staying fit after giving birth
Finding the time for exercise and motherhood
Complete with special tips on exercising indoors, staying motivated, getting your family hooked on fitness, and helping your child grow up healthy and fit, Fit Pregnancy For Dummies is the key to exercising safely and staying fit throughout your pregnancy and beyond!
Buy Both and Save 25%!
Original Price:$39.98
Purchased together:$29.99
save $9.99
Cannot be combined with any other offers.
Introduction.
Part I: Fit Pregnancy: Isn't That an Oxymoron?
Chapter 1: Making Your Pregnancy a Fit Pregnancy.
Chapter 2: Recognizing the Benefits of a Fit Pregnancy.
Chapter 3: Designing a Safe Prenatal Fitness Program.
Chapter 4: Knowing Which Activities Are Best (And Which to Avoid).
Part II: Getting Up and Moving: Fit Pregnancy Basics.
Chapter 5: Never Exercised Before? No Problem!
Chapter 6: Exercise for Fitness Buffs and Competitive Athletes.
Chapter 7: Dressing for Success: Finding Workout Gear.
Chapter 8: Stretching the Truth: An Honest Look at Stretching.
Part III: Eating Well for Nine Months—and for Life.
Chapter 9: Fueling Your Body with the Right Foods.
Chapter 10: Healthy Weight Gain during Pregnancy.
Part IV: Fun and Healthy Activities for Pregnancy and Beyond.
Chapter 11: Balls, Bands, Bars, and Mats: Simple, Inexpensive Workouts.
Chapter 12: Fitness Walking and Running.
Chapter 13: Swimming and Water Aerobics.
Chapter 14: Yoga, Pilates, and Low-Impact Aerobics.
Chapter 15: A Bicycle Built for Two.
Chapter 16: Weightlifting and Indoor Machines.
Chapter 17: Mixing It Up: Combining Different Exercise Routines.
Part V: The Tenth Month and Later: Staying Fit for Life.
Chapter 18: Recovering from the Labor Marathon and Getting Up and at 'Em.
Chapter 19: Finding Time for Fitness and Motherhood.
Chapter 20: Starting Your Kids Off on the Right Fitness Foot.
Part VI: The Part of Tens.
Chapter 21: Ten Ideas for Staying Fit without Leaving the House.
Chapter 22: Ten or So Ways to Get Family and Friends Involved in Your Quest for Fitness.
Chapter 23: Ten (Plus One) Resources for Pregnancy Workout Gear.
Index.
"…this comprehensive book is for you…all aspects of exercise in pregnancy are covered…" (
Health & Fitness
, October 2004)
"…practical advice on all aspects of pregnancy…" (Yoga & Health, September 2004)