Five Standards for Effective Teaching: How to Succeed with All Learners, Grades K-8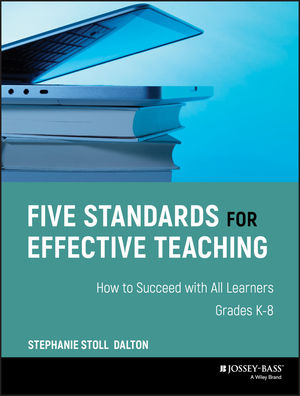 Five Standards for Effective Teaching: How to Succeed with All Learners, Grades K-8
ISBN: 978-0-787-98093-1 November 2007 Jossey-Bass 304 Pages
Description
An acclaimed, research-based framework for promoting excellence
Based on a proven instructional model distilled over years of research, this book focuses on five essential pedagogy standards for guiding teaching practice in classrooms with diverse students, including English learners. Providing key indicators for each standard along with the theoretical rationale and "best practice" strategies, the book offers teachers invaluable guidance for enhancing language, literacy, thinking, and content learning across the curricula. It also provides advice on creating classroom groupings for differentiating lessons and activities and includes extensive examples of practices from real-life classrooms.
Stephanie Stoll Dalton, Ed.D., has taught diverse students from first to twelfth grade, community college, and as a teacher educator. She has consulted widely on teacher quality. She is currently with the U.S. Department of Education
Cannot be combined with any other offers.
Original Price:$51.95
Purchased together:$38.96
save $12.99
Table of contents
Preface ix
The Author xv
Part One Understanding the Standards
One Effective Teaching and Pedagogy 2
Two Evidence: Scientific Support for Five Standards 22
Part Two Implementing the Standards
Three Teacher and Students Producing Together (Standard I) 50
Four Developing Language and Literacy (Standard II) 96
Five Connecting Learning to Students' Worlds (Standard III) 132
Six Challenging Students' Thinking (Standard IV) 158
Seven Using Instructional Conversation (Standard V) 188
Eight The Five Standards Integrated: How to Teach Effectively 220
Appendixes
1A Five Standards of Pedagogy with Classroom Indicators 247
3A Timing Instructional Frames 250
3B Guidelines for Organizing Classroom Activity Settings 252
3C Classroom Graphic 254
4A Directed Thinking Activity Cycles 255
4B Web Sites 258
6A Stock Market Math Activity 261
6B Stock Market Instructional Frame 263
6C Footprint Puzzle 264
8A Activity Settings Worksheet 265
8B Scheduling and Routing Form 267
8C Instructional Frame: Student Contract and Choice Model 271
References 273
Name Index 278
Subject Index 281
Features
Features proven instructional model distilled from over 25 years of research.by the Center for Research on Education, Diversity, and Excellence (CREDE). 

Tested with diverse students in dozens of K-12 classrooms from Hawaii to Florida, with support from the U.S. Dept. of  Education

Offers theoretical grounding and systematic, practical guidance

Emphasizes literacy, motivation, and engagement as well as content learning

Includes model lessons and activities from across the curriculum

Perfect for use in teaching courses that deal with instruction in differentiated and inclusion classrooms.