Fixing the Fragmented University : Decentralization With Direction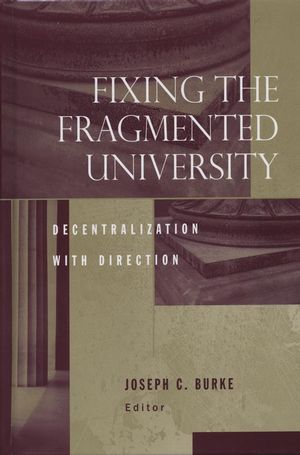 Fixing the Fragmented University : Decentralization With Direction
ISBN: 978-1-933-37115-3
Dec 2006, Jossey-Bass
450 pages
Description
A fatal flaw in accountability programs is the fragmented university that leaves academic departments—the units most responsible for institutional results—out of the performance loop. Currently, decentralization fosters a disabling disconnect among societal concerns, institutional goals, and departmental aims, the three links of public accountability. How then can the culture of many research universities be transformed from provider-driven prestige to public-centered engagement? The answer is not to end decentralization but to add direction.

Fixing the Fragmented University brings together a group of national experts in a discussion of different methods for fixing the fragmented university and changing campus culture. The book shows how the practice of strategic planning, priority budgeting, assessment and quality assurance, regional accreditation, and departmental performance reporting can enable large research universities to set priorities and pursue direction – all while preserving the decentralization that drive internal creativity and innovation.

Written for administrators, trustees, faculty leaders, and students in higher education, this book describes an effective research university as one focused on serving public needs rather than courting peer prestige. It brings together a group of national experts who present responses, from their disciplines, toward fixing the fragmented university and assisting it in becoming as devoted to undergraduate education and public engagement as it is to faculty research.
About the Authors.
Preface.
Introduction.
1 "The Fragmented University" (Joseph C. Burke).
Part I: The Participants.
2 Governing Boards of Public Research Universities as Conflicted Necessities (Richard T. Ingram).
3 Fixing the Fragmented University: A View From the Bridge (James J. Duderstadt).
4 Recreating the Faculty Role in University Governance (Roger Benjamin).
Part II: Means and Methods of Cohesion.
5 Strategic Direction and Decentralization in Public Research Universities (Daniel James Rowley, Herbert Sherman).
6 Using the Budget to Fight Fragmentation and Improve Quality (William F. Massy).
7 Assessing Institutional Effectiveness and Connecting the Pieces of a Fragmented University (J. Fredericks Volkwein).
8 Accrediting the Public University: Part of the Problem or Part of the Solution? (Ralph A. Wolff).
9 Performance Reporting: Putting Academic Departments in the Performance Loop (Joseph C. Burke).
Part III: Redesigning the Mission.
10 Making Students Matter (George D. Kuh).
11 Making a "Great 'Engaged' University" Requires Rhetoric (Richard A. Cherwitz, E. Johanna Hartelius).
Part IV: Making It Happen on Campus.
12 Transforming the University of Minnesota Through Strategic Positioning (Robert H. Bruininks).
13 A Targeted Path Toward Academic Excellence at The Ohio State University (Karen A. Holbrook).
14 Florida International University: A Top Urban Public Research University (Mayra E. Beers, Paul D. Gallagher, Modesto A. Maidique).
Conclusion.
15 The Kellogg Commission: Glancing Back, Looking Forward (C. Peter Magrath).
16 Returning to Their Roots: Putting Unity, Students, and Public Back Into State Universities (Joseph C. Burke).
Index.