FlashTM MX Complete Course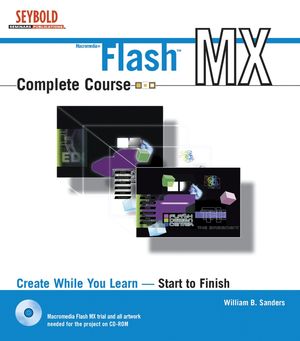 FlashTM MX Complete Course
ISBN: 978-0-764-53685-4
Oct 2002
416 pages
Product not available for purchase
Description
Exercises build gradually so that by the end of the book, readers will have created a Flash-based Web site that contains several Web pages.
* CD-ROM contains all raw files needed to reconstruct the project, plus "iteration" files for each session.
Confidence Builder.

Part I: Course Setup.

Flash MX Basics.

Project Overview.

Part II: Getting Started.

Session 1: The Flash MX Environment.

Session 2: Drawing in Flash.

Session 3: Arranging and Changing Objects.

Part III: Moving and Changing Objects.

Session 4: Animation from Cels to Digital Frames.

Session 5: Text and Forms.

Session 6: Enhanced Animations.

Session 7: Adding Sound to Flash MX.

Session 8: Debugging and Publishing Movies.

Part IV: Dynamic Controls.

Session 9: Editing and Navigation.

Session 10: Controls with ActionScript.

Part V: Working with External Elements.

Session 11: Working with QuickTime Movies and UI Components.

Session 12: Using External Files and Finishing Up.

Appendix.

Index.
"…lavish screenshots…crisp and direct tutorials…an excellent resource… (Practical Web Projects, August 2003)
William B. Sanders is the author of Server-Side Flash, Flash ActionScript f/x, and more than 40 other computer-related books. He is a professor at the University of Hartford, where he teaches Interactive Information Technology and works with faculty and students to develop Web applications.
Seybold Seminars and Seybold Publications are leaders in helping graphic design and Web professionals understand and work with the latest digital technologies. For information, go to www.seyboldseminars.com.