Flash Professional CS5 and Flash Catalyst CS5 For Dummies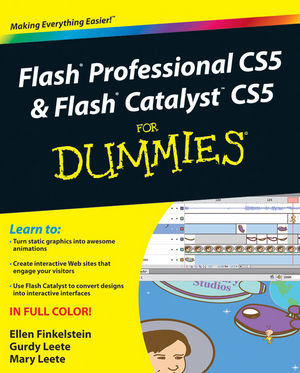 Description
A full-color guide for getting rewarding results with Flash CS5!
Flash is used in the creation of web animation, games, media rich websites, presentations, and more. Adobe's Flash CS5 product has been divided into three separate products custom-tailored for different audiences, and this book covers the Professional product; the traditional animation/media serving tool; and Catalyst, the web/interface design tool. This book provides a fun and friendly full-color guide to Flash and all it can do to add some flair to your site.
Walks you through both Professional and Catalyst as well as the traditional Flash animation tool
Offers guidance for getting acquainted with the interface; creating images, objects, text, and layers for animation; and working with symbols and buttons
Introduces using Flash for online publishing and mobile designs
Addresses how to turn existing images into interactive sites or interfaces with Catalyst
Offers helpful tips on troubleshooting and best practices for creating interactive websites
Using the knowledge you gain from Flash CS5 Professional & Flash CS5 Catalyst For Dummies, you'll quickly prove that you are not a flash in the pan!
Introduction.
Part I: A Blast of Flash.
Chapter 1: Getting Acquainted with Flash CS5.
Chapter 2: Your Basic Flash.
Part II: 1,000 Pictures and 1,000 Words.
Chapter 3: Getting Graphic.
Chapter 4: You Are the Object Editor.
Chapter 5: What's Your Type?
Chapter 6: Layering It On.
Part III: Getting Symbolic.
Chapter 7: Heavy Symbolism.
Chapter 8: Pushing Buttons.
Part IV: Total Flash-o-Rama.
Chapter 9: Getting Animated.
Chapter 10: Getting Interactive.
Chapter 11: Extravagant Audio, High-Velocity Video.
Part V: The Movie, the Web, and the iPhone.
Chapter 12: Putting It All Together.
Chapter 13: Publishing for the Flash Player.
Chapter 14: Publishing to the iPhone.
Part VI: Building Web Sites Fast with Flash Catalyst.
Chapter 15: Working with Flash Catalyst.
Chapter 16: Adding Components, Audio, Video, and More to Catalyst.
Part VII: The Part of Tens.
Chapter 17: Ten Frequently Asked Questions.
Chapter 18: Ten Best Flash Resources.
Chapter 19: Ten Flash Designers to Watch.
Index.