Flash and PHP Bible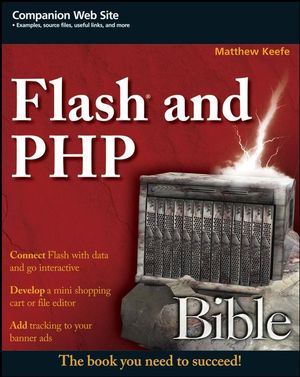 Description
The demand for rich Internet applications (RIAs) such as complete storefronts and interactive surveys is skyrocketing, as is the pressure to create these dynamic apps overnight and at low cost. This in-depth Bible provides the step-by-step instructions you need to quickly create RIAs in Flash using cost-effective, open-source PHP programming tools. You'll learn how PHP works, when you should use it in Flash, and above all, vital security techniques for keeping your interactive sites secure.
About the Author.
Foreword.
Acknowledgments.
Introduction.
Part I: Understanding the Basics.
Chapter 1: Getting Started with Flash and PHP.
Chapter 2: Exploring Flash and PHP.
Chapter 3: Getting Connected.
Chapter 4: Working with Data.
Chapter 5: Interacting with the User.
Chapter 6: Working with Cookies.
Part II: Developing Interactive Content.
Chapter 7: Maintaining Security while Working with User Input.
Chapter 8: Using Sockets.
Part III: Extending Flash and PHP.
Chapter 9: Working with Third-Party Libraries.
Chapter 10: Using Object-Oriented Programming.
Part IV: Developing Applications.
Chapter 11: Developing Basic Applications.
Chapter 12: Developing Real-World Applications.
Chapter 13: Using Advanced Real-World Applications.
Chapter 14: Debugging Applications.
Part V: Server, Application, and Database Maintenance.
Chapter 15: Maintaining an Application.
Chapter 16: Maintaining a Scalable and More Efficient Server.
Chapter 17: Building Complete Advanced Applications.
Index.