Flavor Perception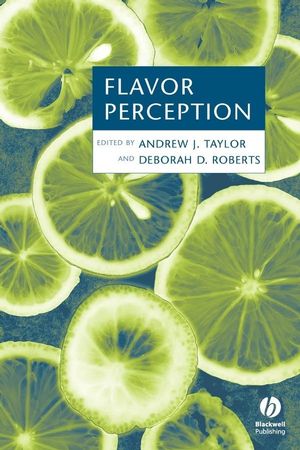 Flavor Perception
ISBN: 978-1-405-11627-5 July 2004 Wiley-Blackwell 304 Pages
Description
Unlike other human senses, the exact mechanisms that lead to our perception of flavor have not yet been elucidated. It is recognised that the process involves a wide range of stimuli, which are thought likely to interact in a complex way, but, since the chemical compounds and physical structures that activate the flavor sensors change as the food is eaten, measurements of the changes in stimuli with time are essential to an understanding of the relationship between stimuli and perception.
It is clear that we need to consider the whole process - the release of flavor chemicals in the mouth, the transport processes to the receptors, the specificity and characteristics of the receptors, the transduction mechanisms and the subsequent processing of signals locally and at higher centres in the brain.

This book provides a state-of-the-art review of our current understanding of the key stages of flavor perception for those working in the flavor field, whether in the academic or industrial sector. In particular, it is directed at food scientists and technologists, ingredients suppliers and sensory scientists.
Cannot be combined with any other offers.
Original Price:$470.95
Purchased together:$353.21
save $117.74
Cannot be combined with any other offers.
Original Price:$571.95
Purchased together:$428.96
save $142.99
Table of contents
Contributors.
Preface.
1. Measuring proximal stimuli involved in flavour perception (Andrew J. Taylor and Joanne Hort, Division of Food Sciences, University of Nottingham, UK).
2. The role of oral processing in flavour perception (Jon F. Prinz and Rene De Wijk, Wageningen Centre for Food Sciences, Wageningen, The Netherlands).
3. The cellular basis of flavour perception: taste and aroma (Nancy E. Rawson and Xia Li, Monell Chemical Senses, Philadelphia, USA).
4. Structural recognition between odorants, olfactory-binding proteins and olfactory receptors, first events in odour coding (J.C. Pernollet and Loïc Briand, INRA, Jouy En Josas, France).
5. Oral chemesthesis: an integral component of flavour (Barry G. Green, School of Medicine, Yale University, Connecticut, USA).
6. Flavour perception and the learning of food preferences (Anthony A. Blake, Firmenich SA, Geneva, Switzerland).
7. Functional magnetic resonance imaging of human olfaction (M. Wiesmann, Abteilung für Neuroradiologie, Universitätsklinikum München – Großhadern, München, Germany, Birgit Kettenmann, Department of Radiology, Virginia Commonwealth University Health System, Virginia, USA and Gerd G. Kobal, Sensory Research, WSA Philip Morris USA, Richmond, Virginia, USA).
8. Flavor interactions at the sensory level (Russell R. Keast, Pamela H. Dalton and Paul A.S. Breslin, Monell Chemical Senses Centre, Philadelphia, USA).
9. Psychological processes in flavour perception (John Prescott, School of Psychology, James Cook University, Cairns, Australia).
Index.
Reviews
"generally fascinating and beneficial to the reader....I really enjoyed reading this book due to the clarity maintained throughout its presentation.... The book is extremely useful to the researchers in the field of science and technology, in particular, to the people in flavour and senspry science. As a flavour chemist, I recommend it for its scope, readability, value and importance." (
International Journal of Food Science and Technology
, 2006, 41, 865-866)
Consumer perception of the sense of taste is not yet fully understood, and this book provides a highly detailed insight in to the fundamental factors that may affect our preferences for particular foods and beverages.
This information may be simply applied into new product development, and thus could be highly prized. Marketing managers take note! (Food Australia (AIFST Journal), Vol 57, issue 6, June 2005)
"Flavor Perception will interest biologists, psychologists and food technologists , and will be an aid to food companies trying to boost sales of their products." (Food Magazine, 2004)"The book provides a state-of-the-art review of the current understanding of the key stages of flavour perception for those working in the flavor field, whether in the academic or industrial sector. In particular it is directed at food scientists and technologists, ingredients suppliers and sensory scientists." (Beverage & Food World, September 2004)
What's New


A state-of-the-art review of a subject of central relevance to the food industry

Considers the whole process, from the release of flavor chemicals in the mouth to the processing of signals in the brain

Edited by the combination of a senior academic and an industrialist