Fleeting Rome: In Search of la Dolce Vita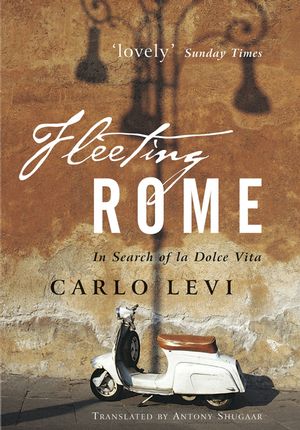 Fleeting Rome: In Search of la Dolce Vita
ISBN: 978-0-470-87183-6 September 2004 318 Pages
Description
Only a renaissance man could have described this glorious city in its heyday. And only Carlo Levi, writer, painter, politician and one of the last century's most celebrated talents, could depict Rome at the height of its optimism and vitality after World War II. In Fleeting Rome, the era of post war 'La Dolce Vita' is brought magnificently to life in the daily bustle of Rome's street traders, housewives and students at work and play, the colourful festivities of Ferragosto and San Giovanni, the little theatre of Pulcinella al Pincio; all vibrant sights and sounds of this ancient, yet vital city.
Preface vii
Introduction: Eternal and Fleeting xiii
Translator's Note xxxv
I The People of Rome 1
II The Solitude of Rome 25
III The Two-Cent Coin 31
IV Sunday Stroll 37
V The Helicopter 43
VI Apparitions in Rome 51
VII The Duty of the Comet 57
VIII Elegy to the Mid-August Holidays 65
IX Hyperbolic Tourism 71
X Killing Time 77
XI Points of View 83
XII The Power of the Poor 89
XIII Brigands and Peasants 95
XIV Plants and Seeds 103
XV The Steps of Rome 111
XVI The Empty Cities 119
XVII Girls and Trees 125
XVIII A Dawn in Rome 131
XIX Summer Journey 137
XX The New Moon 143
XXI San Lorenzo and San Paolo 149
XXII A Child in Flight 155
XXIII After the Party 163
XXIV Substance and Chance 171
XXV Clothes Moths 179
XXVI Japanese Toys 187
XXVII Football and Men of Letters 193
XXVIII The Drainage Ditch and the Measles 199
XXIX A Boy Steals a Car Radio in the Piazza Navona 205
XXX The Labyrinth 213
XXXI City of Brothers 219
XXXII Summer Dissolves in Mists 227
XXXIII Fleeting Rome 233
Notes to the Text 237
Basic Chronology of Carlo Levi's Life 259
Index 275
"...this lovely book captures the spirit of Rome in a glancing fashion." (Sunday Times (Culture) 15 August 2004.
"...characteristic elegance and insight,...a tribute to the history, (and...spirit of one of Europe's most remarkable cities." (London Review of Books, 23rd September 2004)
"...a joyous trip that reveals new and hidden delights throughout this ancient, at once eternal yet fleeting city..." (Global, October 04)
"... this collection of beautifully-fashioned essays spans the post-war and dolce vita years in the 'eternal city'..." (Choice magazine, February 2005)
"...a vibrant portrayal of everyday life in Rome..." (Greenock Telegraph, 6th August 05)