Flex 3 Bible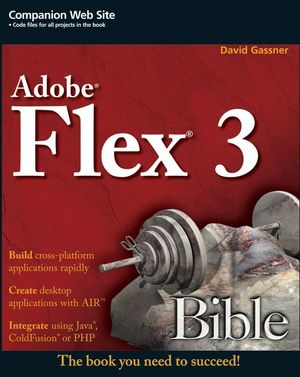 Flex 3 Bible
ISBN: 978-0-470-41746-1
Apr 2009
978 pages
Product not available for purchase
Description
Flex your development muscles with this hefty guide
Write programs using familiar workflows, deliver rich applications for Web or desktop, and integrate with a variety of application servers using ColdFusion, PHP, and others-all with the new Flex Builder 3 toolkit and the comprehensive tutorials in this packed reference. You'll learn the basics of Flex 3, then quickly start using MXML, ActionScript, CSS, and other tools to create applications that can run on any browser or operating system.
Install and learn how to use Flex Builder 3
Explore MXML, ActionScript 3, and the anatomy of a Flex application
Lay out Flex controls and containers, and use Cascading Style Sheets (CSS) to create look and feel
Incorporate Advanced List controls, Flex charting components, and data entry forms
Integrate your Flex applications with a variety of application servers
Create cross-operating system desktop applications with Adobe Integrated Runtime (AIR)
Companion Web Site
Visit www.wiley.com/go/flex3 to access code files for the projects in the book.
Preface.
Part I: Flex Fundamentals.
Chapter 1: About Flex 3.
Chapter 2: Using Flex Builder 3.
Chapter 3: Building a Basic Flex Application.
Chapter 4: Understanding the Anatomy of a Flex Application.
Chapter 5: Using Bindings and Components.
Chapter 6: Debugging Flex Applications.
Chapter 7: Working with Events.
Part II: The Flex Class Library.
Chapter 8: Using Flex Controls.
Chapter 9: Using Layout Containers.
Chapter 10: Using Cascading Style Sheets.
Chapter 11: Working with Text.
Chapter 12: Managing Application Navigation.
Chapter 13: Working with Pop-up Windows.
Chapter 14: Controlling Animation.
Chapter 15: Managing View States.
Part III: Working with Data.
Chapter 16: Modeling and Managing Data.
Chapter 17: Using List Controls.
Chapter 18: Using Advanced List Controls.
Chapter 19: Using the Flex Charting Controls.
Chapter 20: Working with Data Entry Forms.
Chapter 21: Working with HTTPService and XML.
Chapter 22: Managing XML with E4X.
Part IV: Integrating Flex Applications with Application Servers and the Desktop.
Chapter 23: Working with SOAP-Based Web Services.
Chapter 24: Integrating Flex Applications with BlazeDS and Java.
Chapter 25: Using the Message Service with BlazeDS.
Chapter 26: Integrating Flex Applications with ColdFusion.
Chapter 27: Using the ColdFusion Extensions for Flex Builder.
Chapter 28: Integrating Flex Applications with ASP.NET.
Chapter 29: Integrating Flex Applications with PHP.
Chapter 30: Deploying Desktop Applications with AIR.
Glossary.
Index.
Chapter 4 Sample Files
The code examples for this chapter are stored in a ZIP archive file designed to be imported into Adobe Flex Builder 3. If you do not have this software, you can download a free trial from Adobe Systems at www.adobe.com/products/flex.
Download
Chapter 5 Sample Files
The code examples for this chapter are stored in a ZIP archive file designed to be imported into Adobe Flex Builder 3. If you do not have this software, you can download a free trial from Adobe Systems at www.adobe.com/products/flex.
Download
Chapter 6 Sample Files
The code examples for this chapter are stored in a ZIP archive file designed to be imported into Adobe Flex Builder 3. If you do not have this software, you can download a free trial from Adobe Systems at www.adobe.com/products/flex.
Download
Chapter 7 Sample Files
The code examples for this chapter are stored in a ZIP archive file designed to be imported into Adobe Flex Builder 3. If you do not have this software, you can download a free trial from Adobe Systems at www.adobe.com/products/flex.
Download
Chapter 8 Sample Files
The code examples for this chapter are stored in a ZIP archive file designed to be imported into Adobe Flex Builder 3. If you do not have this software, you can download a free trial from Adobe Systems at www.adobe.com/products/flex.
Download
Chapter 9 Sample Files
The code examples for this chapter are stored in a ZIP archive file designed to be imported into Adobe Flex Builder 3. If you do not have this software, you can download a free trial from Adobe Systems at www.adobe.com/products/flex.
Download
Chapter 10 Sample Files
The code examples for this chapter are stored in a ZIP archive file designed to be imported into Adobe Flex Builder 3. If you do not have this software, you can download a free trial from Adobe Systems at www.adobe.com/products/flex.
Download
Chapter 11 Sample Files
The code examples for this chapter are stored in a ZIP archive file designed to be imported into Adobe Flex Builder 3. If you do not have this software, you can download a free trial from Adobe Systems at www.adobe.com/products/flex.
Download
Chapter 12 Sample Files
The code examples for this chapter are stored in a ZIP archive file designed to be imported into Adobe Flex Builder 3. If you do not have this software, you can download a free trial from Adobe Systems at www.adobe.com/products/flex.
Download
Chapter 13 Sample Files
The code examples for this chapter are stored in a ZIP archive file designed to be imported into Adobe Flex Builder 3. If you do not have this software, you can download a free trial from Adobe Systems at www.adobe.com/products/flex.
Download
Chapter 14 Sample Files
The code examples for this chapter are stored in a ZIP archive file designed to be imported into Adobe Flex Builder 3. If you do not have this software, you can download a free trial from Adobe Systems at www.adobe.com/products/flex.
Download
Chapter 15 Sample Files
The code examples for this chapter are stored in a ZIP archive file designed to be imported into Adobe Flex Builder 3. If you do not have this software, you can download a free trial from Adobe Systems at www.adobe.com/products/flex.
Download
Chapter 16 Sample Files
The code examples for this chapter are stored in a ZIP archive file designed to be imported into Adobe Flex Builder 3. If you do not have this software, you can download a free trial from Adobe Systems at www.adobe.com/products/flex.
Download
Chapter 17 Sample Files
The code examples for this chapter are stored in a ZIP archive file designed to be imported into Adobe Flex Builder 3. If you do not have this software, you can download a free trial from Adobe Systems at www.adobe.com/products/flex.
Download
Chapter 18 Sample Files
The code examples for this chapter are stored in a ZIP archive file designed to be imported into Adobe Flex Builder 3. If you do not have this software, you can download a free trial from Adobe Systems at www.adobe.com/products/flex.
Download
Chapter 19 Sample Files
The code examples for this chapter are stored in a ZIP archive file designed to be imported into Adobe Flex Builder 3. If you do not have this software, you can download a free trial from Adobe Systems at www.adobe.com/products/flex.
Download
Chapter 20 Sample Files
The code examples for this chapter are stored in a ZIP archive file designed to be imported into Adobe Flex Builder 3. If you do not have this software, you can download a free trial from Adobe Systems at www.adobe.com/products/flex.
Download
Chapter 21 Sample Files
The code examples for this chapter are stored in a ZIP archive file designed to be imported into Adobe Flex Builder 3. If you do not have this software, you can download a free trial from Adobe Systems at www.adobe.com/products/flex.
Download
Chapter 22 Sample Files
The code examples for this chapter are stored in a ZIP archive file designed to be imported into Adobe Flex Builder 3. If you do not have this software, you can download a free trial from Adobe Systems at www.adobe.com/products/flex.
Download
Chapter 23 Sample Files
The code examples for this chapter are stored in a ZIP archive file designed to be imported into Adobe Flex Builder 3. If you do not have this software, you can download a free trial from Adobe Systems at www.adobe.com/products/flex.
Download
Chapter 24 Sample Files
The code examples for this chapter are stored in a ZIP archive. To open it, you will need a computer with software capable of opening ZIP files. If you do not already have this capability, you can download a free trial of WinZip.
Download
Chapter 25 Sample Files
The code examples for this chapter are stored in a ZIP archive. To open it, you will need a computer with software capable of opening ZIP files. If you do not already have this capability, you can download a free trial of WinZip.
Download
Chapter 26 Sample Files
The code examples for this chapter are stored in a ZIP archive. To open it, you will need a computer with software capable of opening ZIP files. If you do not already have this capability, you can download a free trial of WinZip.
Download
Chapter 27 Sample Files
The code examples for this title are stored in a ZIP archive. To open it, you will need a computer with software capable of opening ZIP files. If you do not already have this capability, you can download a free trial of WinZip.
Download
Chapter 28 Sample Files
The code examples for this chapter are stored in a ZIP archive. To open it, you will need a computer with software capable of opening ZIP files. If you do not already have this capability, you can download a free trial of WinZip.
Download
Chapter 29 Sample Files
The code examples for this chapter are stored in a ZIP archive. To open it, you will need a computer with software capable of opening ZIP files. If you do not already have this capability, you can download a free trial of WinZip.
Download
Chapter 30 Sample Files
The code examples for this title are stored in a ZIP archive. To open it, you will need a computer with software capable of opening ZIP files. If you do not already have this capability, you can download a free trial of WinZip.
Download
Flex 3 Bible Errata
To view this PDF file, you need the free Adobe Reader.
Download
Chapter
Page
Details
Date
Print Run
Flex 3 Bible Errata
Flex 3 Bible Errata has been posted in PDF format in the download section.

---