Flight Path: How WestJet Is Flying High in Canada's Most Turbulent Industry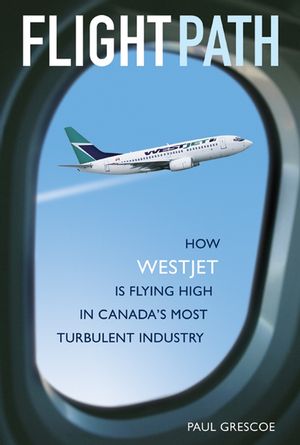 Flight Path: How WestJet Is Flying High in Canada's Most Turbulent Industry
ISBN: 978-0-470-83436-7 May 2004 288 Pages
Description
At a time when airlines across North America and around the world are facing crisis after crisis, and many collapsing into bankruptcy, WestJet has become Canada's most successful airline and one of the two most profitable carriers in North America.

WestJet got off the ground in 1996, with three aircraft and 220 employees serving just five western Canadian cities. Today, the company is soaring to new heights, with more than 6 million 'guests'; traveling on 44 planes, and WestJet's over 3,700 people providing service to 26 destinations.

Flight Path is the first book to chronicle the amazing success story of Canada's leading low-fare airline. It offers a detailed look at WestJet's path to success and holds valuable lessons for any business reader: the empowering corporate philosophy and people-first culture; the low-cost structure that drives profitability; the passion for customer service that puts the fun back into flying; the focus on technology innovations; and the unwavering commitment to providing safe, friendly, and affordable air travel.
Acknowledgements.
Prologue.
Graduation Day.
1. Win Your Wings from the Ground Up.
The guys behind WestJet.
2. Prepare for Takeoff.
Doing due diligence.
3. Find Good Flight Instructors.
Mentors and advisors.
4. Bring Everybody on Board.
Profit-sharing and share-purchase plans.
5. Follow Your Own Flight Plan.
Controlling destiny during early disasters.
6. Build a Fail-Safe into the Flight Plan.
Giving employees a voice.
7. Question Your Pilot.
Managing executive mistakes.
8. Fly in Close Formation.
True teamwork within and without.
9. Learn to Land on One Engine.
Productivity and empowerment in the workplace.
10. Know When to Spread Your Wings.
Going public, expanding, competing.
11. Have a Fun Flight.
Pleasing customers—and employees.
Epilogue.
Flying into the future.
A Brief History of WestJet Airlines.
Notes.
Index.