Flood Risk Science and Management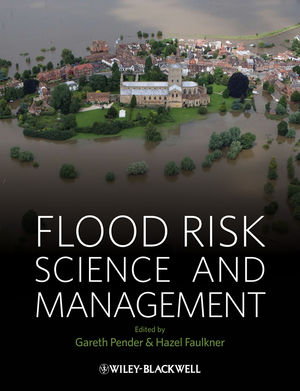 Flood Risk Science and Management
ISBN: 978-1-405-18657-5 January 2011 Wiley-Blackwell 544 Pages
Description
Approaches to avoid loss of life and limit disruption and damage from flooding have changed significantly in recent years. Worldwide, there has been a move from a strategy of flood defence to one of flood risk management. Flood risk management includes flood prevention using hard defences, where appropriate, but also requires that society learns to live with floods and that stakeholders living in flood prone areas develop coping strategies to increase their resilience to flood impacts when these occur. This change in approach represents a paradigm shift which stems from the realisation that continuing to strengthen and extend conventional flood defences is unsustainable economically, environmentally,  and in terms of social equity. Flood risk management recognises that a sustainable approach must rest on integrated measures that reduce not only the probability of flooding, but also the consequences.  This is essential as increases in the probability of inundation are inevitable in many areas of the world due to climate change, while socio-economic development will lead to spiralling increases in the consequences of flooding unless land use in floodplains is carefully planned. 

Flood Risk Science and Management provides an extensive and comprehensive synthesis of current research in flood management; providing a multi-disciplinary reference text covering a wide range of flood management topics. Its targeted readership is the international research community (from research students through to senior staff) and flood management professionals, such as engineers, planners, government officials and those with flood management responsibility in the public sector. By using the concept of case study chapters, international coverage is given to the topic,  ensuring a world-wide relevance.
Preface.
Contributors.
Foreword.
Acronyms/Glossary of terms.
Part 1 Introduction.
1 Setting the scene for flood risk management (Jim W. Hall and Edmund C. Penning-Rowsell).
Part 2 Land Use and Flooding.
2 Strategic Overview of Land Use Management in the Context of Catchment Flood Risk Management Planning (Enda O'Connell, John Ewen, Greg O'Donnell).
3 Multi-scale Impacts of Land Management on Flooding (Howard Wheater, Neil McIntyre, Bethanna Jackson, Miles Marshall, Caroline Ballard, Nataliya Bulygina, Brian Reynolds, Zoe Frogbrook).
4 Managed Realignment: A Costal Flood Management Strategy (Ian Townend, Colin Scott, Mark Dixon).
5 Accounting for Sediment in Flood Risk Management (Colin Thorne, Nick Wallerstein, Philip Soar, Andrew Brookes, Duncan Wishart, David Biedenharn, Stanford Gibson, Charles Little, Jr., David Mooney, Chester C. Watson, Tom Coulthard, Marco Van De Wiel).
6 A Measured Step Towards Performance-based Visual Inspection of Flood Defence Assets (G Long & M J Mawdesley).
Part 3 Flood Forecasting and Warning.
7 Advances in the Remote Sensing of Precipitation Using Weather Radar (Ian D. Cluckie).
8 Artificial Intelligence Techniques for Real-Time Flood Forecasting (Jonathan Lawry, Daniel R. McCulloch, Nicholas J. Randon, Ian D. Cluckie).
9 Real-Time Updating in Flood Forecasting and Warning (Peter C. Young).
10 Coupling Meteorological and Hydrological Models for Real-time Flood Forecasting (Geoff Austin, Barney Austin, Luke Sutherland-Stacey, Paul Shucksmith).
Part 4 Flood Modelling and Mitigation.
11 Data Utilization in Flood Inundation Modelling (David C. Mason, Guy J-P Schumann and Paul D. Bates).
12 Flood Inundation Modelling to Support Flood Risk Management (Gareth Pender and Sylvain Néelz).
13 Integrated Urban Flood Modelling (Adrian J. Saul, Slobodan Djordjevic, Cedo Maksimovic and John Blanksby).
Part 5 Systems Modelling and Uncertainty Handling.
14 Distributed Models and Uncertainty in Flood Risk Management (Keith Beven).
15 Towards the Next Generation of Risk-based Asset Management Tools (Paul B. Sayers, Mike J. Wallis, Jonathan D. Simm, Greg Baxter and Tony Andryszewski).
16 Handling Uncertainty in Coastal Modelling (Dominic E. Reeve, Jose Horrillo-Caraballo and Asrian Pedrozo-Acuña).
Part 6 Policy and Planning.
17 The Practise of Power: Governance and Flood Risk Management (Colin Green).
18 Stakeholder Engagement in Flood Risk Management (Colin Green and Edmund C. Penning-Rowsell).
19 Flood Risk Communication (Hazel Faulkner, Simon McCarthy and Sylvia Tunstall).
20 Socio-Psychological Dimensions of Flood Risk Management (Sue Tapsell).
21 Assessment of Infection Risks Due to Urban Flooding (Lorna Fewtrell, Keren Smith and David Kay).
Part 7 Case Studies.
22 Modelling Concepts and Strategies to Support Integrated Flood Risk Management in Large, Lowland Basins: Río Salado Basin, Argentina (Rodo Aradas, Colin R. Thorne and Nigel Wright).
23 Flood Modelling in the Thames Estuary (Jon Wicks, Luke Lovell and Owen Tarrant).
24 A Strategic View of Land Management Planning in Bangladesh (Ainun Nishat, Bushra Nishat and Malik Fida Abdullah Khan).
25 Goals, Institutions, and Governance: The US Experience (Gerald E. Galloway).
Index.