Flow Cytometry of Hematological Malignancies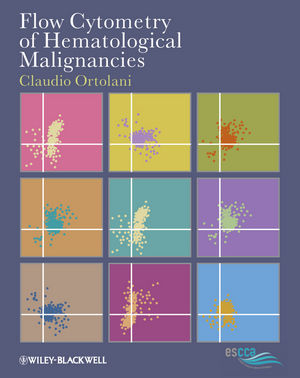 Flow Cytometry of Hematological Malignancies
ISBN: 978-1-444-39805-2 June 2011 Wiley-Blackwell 328 Pages
Description
Flow Cytometry of Hematological Malignancies
contains an array of graphical outputs produced by the technique in the study of the most (and the least) common diseases. The images included allow you to compare your own results with a third party reference pattern.   There is a detailed description of the main leukocyte antigens, together with a description of their distribution amongst normal and abnormal blood cells. The book also provides a comprehensive description of the phenotype of every neoplastic blood disease recorded in the WHO classification system, including all the instructions needed to recognise and classify even the least common entity.
Designed to be practical, the book is perfect for quick consultation and is divided into two main sections. Section I deals with the direct object of immunophenotyping, and Section II deals with the ultimate target of the analysis. More than 50 antigens are covered and every antigen is dealt with in three main parts: general features, cytometric features and practical hints.
This authoritative and state-of-the-art reference will be invaluable for clinicians directly involved in the diagnosis and analysis of hematological diseases, including hematologists, hematopathologists, oncologists, pathologists and technicians working in diagnostic laboratories.
Table of contents
Foreword by Maryalice Stetler-Stevenson.
Foreword by Bruno Brando. 
Preface and acknowledgements.
Abbreviations.
1 Antigens.
CD1 Antigens.
CD2 Antigen.
CD3 Antigen.
CD4 Antigen.
CD5 Antigen.
CD7 Antigen.
CD8 Antigen.
CD10 Antigen.
CD11b Antigen.
CD11cAntigen.
CD13 Antigen.
CD14 Antigen.
CD15 Antigen.
CD16 Antigen.
CD19 Antigen.
CD20 Antigen.
CD22 Antigen.
CD23 Antigen.
CD24 Antigen.
CD25 Antigen.
CD30 Antigen.
CD33 Antigen.
CD34 Antigen.
CD38 Antigen.
CD45 Antigen.
CD45 Isoforms.
CD56 Antigen.
CD57 Antigen.
CD61 Antigen.
CD64 Antigen.
CD65 Antigen.
CD66c Antigen.
CD71 Antigen.
CD79 Antigen.
CD103 Antigen.
CD117 Antigen.
CD138 Antigen.
HLA-DR Antigen.
NG2 Antigen.
Immunoglobulins.
Myeloperoxidase.
Cytotoxic Proteins.
KIR, CD158 Isoforms.
T Cell Receptor.
Terminal Deoxy-nucleotidyl Transferase.
Bcl-2 Protein.
ZAP-70 Protein.
References.
2 Diseases.
Myeloproliferative Neoplasms.
Myelodysplastic/Myeloproliferative Neoplasms.
Myelodysplastic Syndromes.
Acute Myeloid Leukaemias.
Acute Leukaemias of Ambigous Lineage Attribution.
Acute Leukaemias Not Recognized by The WHO Classification.
Acute Leukaemias of Lymphatic Precursors.
Neoplastic Disease of Mature B Cells.
Neoplastic Disease of Mature T And NK Cells.
Appendix.
References.
Reviews
"I really like this book -- so much so, that my review was late because I was so busy using it in my daily diagnostic practice." (Doody's, 9 March 2012)