Fluid Mechanics, 7th Edition SI Version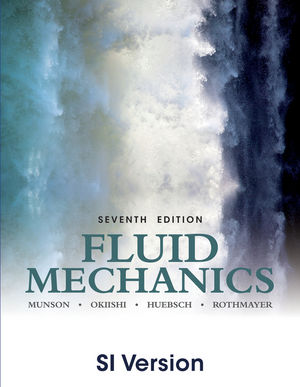 Fluid Mechanics, 7th Edition SI Version
Product not available for purchase
Description
Fundamentals of Fluid Mechanics offers comprehensive topical coverage, with varied examples and problems, application of visual component of fluid mechanics, and strong focus on effective learning.  The text enables the gradual development of confidence in problem solving.    Each important concept is introduced in easy-to-understand terms before more complicated examples are discussed.  Continuing this book's tradition of extensive real-world applications, this latest edition includes more Fluid in the News case study boxes in each chapter, new problem types, an increased number of real-world photos, and additional videos to augment the text material and help generate interest in the topic.  Example problems have been updated and numerous new photographs, figures, and graphs have been included.  In addition, there are 150 videos designed to aid and enhance comprehension, support visualization skill building and engage users more deeply with the material and concepts.
Introduction 1
Learning Objectives 1
1.1 Some Characteristics of Fluids 3
1.2 Dimensions, Dimensional
Homogeneity, and Units 4
1.2.1 Systems of Units 7
1.3 Analysis of Fluid Behavior 11
1.4 Measures of Fluid Mass and Weight 11
1.5 Ideal Gas Law 12
1.6 Viscosity 14
1.7 Compressibility of Fluids 20
1.8 Vapor Pressure 23
1.9 Surface Tension 24
1.10 A Brief Look Back in History 27
1.11 Chapter Summary and Study Guide 29
References 30
Review Problems 31
Conceptual Questions 31
Problems 31
2 Fluid Statics 40
Learning Objectives 40
2.1 Pressure at a Point 40
2.2 Basic Equation for Pressure Field 42
2.3 Pressure Variation in a Fluid at Rest 43
2.4 Standard Atmosphere 49
2.5 Measurement of Pressure 50
2.6 Manometry 52
2.7 Mechanical and Electronic Pressure-Measuring Devices 57
2.8 Hydrostatic Force on a Plane Surface 59
2.9 Pressure Prism 65
2.10 Hydrostatic Force on a Curved Surface 68
2.11 Buoyancy, Flotation, and Stability 70
2.12 Pressure Variation in a Fluid with Rigid-Body Motion 74
2.13 Chapter Summary and Study Guide 79
References 80
Review Problems 80
Conceptual Questions 81
Problems 81
3 Elementary Fluid Dynamics—The Bernoulli Equation 101
Learning Objectives 101
3.1 Newton's Second Law 101
3.2 F _ ma along a Streamline 104
3.3 F _ ma Normal to a Streamline 108
3.4 Physical Interpretation 110
3.5 Static, Stagnation, Dynamic, and Total Pressure 113
3.6 Examples of Use of the Bernoulli
Equation 117
3.7 The Energy Line and the Hydraulic Grade Line 131
3.8 Restrictions on Use of the Bernoulli Equation 134
3.9 Chapter Summary and Study Guide 139
References 141
Review Problems 141
Conceptual Questions 141
Problems 141
4 Fluid Kinematics 157
Learning Objectives 157
4.1 The Velocity Field 157
4.2 The Acceleration Field 166
4.3 Control Volume and System Representations 175
4.4 The Reynolds Transport Theorem 176
4.5 Chapter Summary and Study Guide 188
References 189
Review Problems 189
Conceptual Questions 189
Problems 190
5 Finite Control Volume Analysis 199
Learning Objectives 199
5.1 Conservation of Mass—The
Continuity Equation 200
5.2 Newton's Second Law—The Linear Momentum and Moment-of-Momentum Equations 213
5.3 First Law of Thermodynamics—The Energy Equation 236
5.4 Second Law of Thermodynamics—Irreversible Flow 253
5.5 Chapter Summary and Study Guide 253
References 254
Review Problems 255
Conceptual Questions 255
Problems 255
6 Differential Analysis of Fluid Flow 276
Learning Objectives 276
6.1 Fluid Element Kinematics 277
6.2 Conservation of Mass 282
6.3 Conservation of Linear Momentum 288
6.4 Inviscid Flow 292
6.5 Some Basic, Plane Potential Flows 286
6.5.1 Uniform Flow 300
6.5.2 Source and Sink 301
6.5.3 Vortex 303
6.5.4 Doublet 306
6.6 Superposition of Basic, Plane Potential Flows 308
6.7 Other Aspects of Potential Flow Analysis 318
6.8 Viscous Flow 319
6.9 Some Simple Solutions for Viscous, Incompressible Fluids 321
6.10 Other Aspects of Differential Analysis 331
6.11 Chapter Summary and Study Guide 332
References 333
Review Problems 334
Conceptual Questions 334
Problems 334
7 Dimensional Analysis, Similitude, and Modeling 346
Learning Objectives 346
7.1 Dimensional Analysis 347
7.2 Buckingham Pi Theorem 349
7.3 Determination of Pi Terms 350
7.4 Some Additional Comments About Dimensional Analysis 355
7.5 Determination of Pi Terms by Inspection 359
7.6 Common Dimensionless Groups in Fluid Mechanics 360
7.7 Correlation of Experimental Data 364
7.8 Modeling and Similitude 368
7.9 Some Typical Model Studies 374
7.10 Similitude Based on Governing Differential Equations 384
7.11 Chapter Summary and Study Guide 387
References 388
Review Problems 388
Conceptual Questions 389
Problems 389
8 Viscous Flow in Pipes 400
Learning Objectives 400
8.1 General Characteristics of Pipe Flow 401
Developed Flow 405
8.2 Fully Developed Laminar Flow 407
8.3 Fully Developed Turbulent Flow 416
8.4 Dimensional Analysis of Pipe Flow 426
8.5 Pipe Flow Examples 445
8.6 Pipe Flowrate Measurement 459
8.7 Chapter Summary and Study Guide 465
References 467
Review Problems 468
Conceptual Questions 468
Problems 468
9 Flow Over Immersed Bodies 480
Learning Objectives 480
9.1 General External Flow Characteristics 481
9.2 Boundary Layer Characteristics 489
9.3 Drag 512
9.3.1 Friction Drag 513
9.4 Lift 528
9.5 Chapter Summary and Study Guide 541
References 542
Review Problems 543
Conceptual Questions 543
Problems 544
10 Open-Channel Flow 554
Learning Objectives 554
10.1 General Characteristics of Open-Channel Flow 555
10.2 Surface Waves 556
10.3 Energy Considerations 561
10.4 Uniform Depth Channel Flow 566
10.5 Gradually Varied Flow 575
10.6 Rapidly Varied Flow 576
10.7 Chapter Summary and Study Guide 589
References 590
Review Problems 591
Conceptual Questions 591
Problems 591
11 Compressible Flow 601
Learning Objectives 601
11.1 Ideal Gas Relationships 602
11.2 Mach Number and Speed of Sound 607
11.3 Categories of Compressible Flow 610
11.4 Isentropic Flow of an Ideal Gas 614
11.5 Nonisentropic Flow of an Ideal Gas 631
11.6 Analogy between Compressible and Open-Channel Flows 655
11.7 Two-Dimensional Compressible Flow 657
11.8 Chapter Summary and Study Guide 658
References 661
Review Problems 662
Conceptual Questions 662
Problems 662
12 Turbomachines 667
Learning Objectives 667
12.1 Introduction 668
12.2 Basic Energy Considerations 669
12.3 Basic Angular Momentum
Considerations 673
12.4 The Centrifugal Pump 675
12.5 Dimensionless Parameters and Similarity Laws 688
12.6 Axial-Flow and Mixed-Flow Pumps 693
12.7 Fans 695
12.8 Turbines 695
12.9 Compressible Flow Turbomachines 707
12.10 Chapter Summary and Study Guide 713
References 715
Review Problems 715
Conceptual Questions 715
Problems 716
A Computational fluid dynamics 725
B Physical Properties of Fluids 737
C Properties of the U.S.
Standard Atmosphere 742
D Compressible Flow graphs
For an Ideal Gas (k _ 1.4) 744
Answers ANS-1
Index I-1
Video Index 000
Videos: The video library has been enhanced by the addition of 18 new video segments related directly to the text material. Over 170 videos now illustrate many of the interesting and practical applications of real-world fluid phenomena, and are strategically placed throughout the text to correspond to relevant text material.
Problems: Approximately 30% new homework problems have been added for this edition.
Multiple-choice concept questions (developed by Jay Martin and John Mitchell of the University of Wisconsin - Madison) have been added at the beginning of each problems section.
Prevention through Design (PtD): Several new example problems in this edition incorporate PtD (Prevention through Design) discussion material, an initiative supported by NIOSH with the goal of increasing the awareness and use of proper design of work-day equipment to reduce accidents and injuries in the workplace.
WileyPLUS icons in the problems section identify for instructors and students which problems are available to be assigned within WileyPLUS for automatic grading, and which problems have tutorial help available (at the instructor's discretion).
New photographs and margin figures have been added to enhance the text explanation of various fluid phenomena.
New co-author Alric P. Rothmayer joins the author team.
Within WileyPLUS:
What An Engineer Sees animations demonstrate an engineer's perspective of everyday objects, and relates the transfer of theory to real-life through the solution of a problem involving that everyday object.
 Office-Hours Videos demonstrate the solution of selected problems, focusing specifically on those areas in which students run into difficulty, with video and voiceover.
Over 700 homework problems from the text that can be assigned for automatic feedback and grading (34 new for the 7th edition).  
Including 65 GO (Guided Online) Tutorial problems (26 new for this edition).
Well-paced concept and problem-solving development: the authors develop student confidence in fluid problem solving by first considering each concept in simple and easy-to-understand circumstances before more complicated features are introduced.
Learning Objectives at the beginning of each chapter, and the Chapter Summary and Study Guide and Equation Summary at the end of each chapter, guide the reader in the key knowledge they are to gain from the chapter.
Illustrations, Photographs, and Videos: Hundreds of photos, illustrations, and videos help students visualize fluid flow, and connect the math and theory to physical real-world applications.
Fluids In the News: Short stories that demonstrate some of the latest important and novel ways that fluid mechanics affects our lives, many with associated homework problems.
Problem-Solving Methodology in Example problems: All of the example problems are outlined and carried out with the problem-solving framework of "Given, Find, Solution, and Comment" to instill in students good problem-solving practices.
Homework problems stressing the practical application of principles: Problems include simple to complex problems, discussion problems, problems based on the fluids videos, and Excel-based lab problems. Several problems ask students to find a photograph/image of a particular flow situation and write a paragraph describing it. Each chapter also includes Life Long Learning Problems that ask the student to obtain information about a given flow concept and to write about it.
Two Systems of Units: Both the International System of Units (newtons, kilograms, meters, and seconds) and the British Gravitational System (pounds, slugs, feet, and seconds) are used in the text. About one-half of the examples and homework problems are in each set of units.