Fluvial Sedimentology VII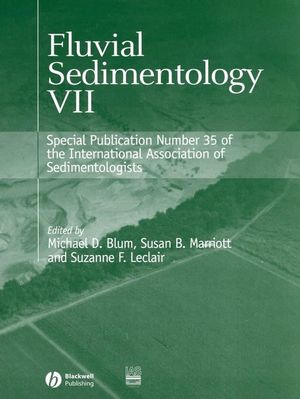 Fluvial Sedimentology VII
ISBN: 978-1-444-30436-7 March 2009 Wiley-Blackwell 600 Pages
Download Product Flyer
Download Product Flyer
Download Product Flyer is to download PDF in new tab. This is a dummy description. Download Product Flyer is to download PDF in new tab. This is a dummy description. Download Product Flyer is to download PDF in new tab. This is a dummy description. Download Product Flyer is to download PDF in new tab. This is a dummy description.
Description
IAS Special Publication 35,
Fluvial Sedimentology VII
, comprises of a series of peer-reviewed papers that were initially presented at the 7th International Conference on Fluvial Sedimentology, held in Lincoln, Nebraska on August 6-10, 2001.
The 29 papers in this volume reflect the topical and geographic diversity of exciting research conducted by fluvial sedimentologists at the beginning of the 21st century. Themes represented in this volume include (a) flow, sediment transport, and bedform dynamics, (b) characteristics of modern fluvial landforms, environments and systems, (c) physical analogue and numerical modeling of fluvial systems, (d) the responses of Quaternary fluvial systems to climate change, active tectonics, and/or sea-level change, and (e) characteristics of pre-Quaternary fluvial deposits and evolution of pre-Quaternary fluvial systems.
Table of contents
Introduction.
Part I: Fluvial Processes and Forms:.
1 Origin of anastomosis in the Upper Columbia River, British Columbia, Canada.
2 Review of Amazonian depositional systems.
3 Kinematics, topology and significance of dune-related macroturbulence: some observations from the laboratory and field.
4 Derivation of annual reach-scale sediment transfers in the River Coquet, Northumberland, UK.
5 Dune-phase fluvial transport and deposition model of gravelly sand.
6 Morphology and fluvio-aeolian interaction of the tropical latitude, ephemeral-braided river dominated Koigab Fan, NW Namibia.
7 A qualitative analysis of the distribution of bed surface elevation and the characteristics of associated deposit for subaqueous dunes.
8 Braided gravel-bed rivers with a limited width: preliminary results of a hydraulic model study.
9 Morphology and facies of sandy braided rivers: some considerations of scale invariance.
10 The application of laser diffraction grain-size analysis to reveal depositional processes in tidally-influenced systems.
11 Sedimentology and avulsion patterns of the anabrancing Baghmati River in the Himalayan foreland basin, India.
12 Estimating bed load in sand-bed channels using bottom tracking from an Acoustic Doppler Profiler.
Part II: Experimental and Numerical Modelling:.
13 Morphological and stratigraphic effects of base-level change: a review of experimental studies.
14 A mass-balance framework for quantifying downstream changes in fluvial architecture.
Part III: Quaternary Fluvial Systems:.
15 The linkage between alluvial and coeval nearshore marine successions: evidence from the Late Quaternary record of the Po River Plain, Italy.
16 Depositional processes in latest Pleistocene and Holocene ephemeral streams of the main Ethiopian Rift, Ethiopia.
17 Fluvio-deltaic floodbasin deposits recording differential subsidence within a coastal prism (central Rhine-Meuse delta, the Netherlands).
18 Geomorphology and internal architecture of the ancestral Burdekin River across the Great Barrier Reef Shelf, NE Australia.
19 Quaternary alluvial stratigraphic development in a desert setting: a case study from the Luni Riverbasin, Thar Desert of western India.
20 The Middle Valley of the Tiber River, central Italy: Plio-Pleistocene fluvial and coastal sedimentation, extensional tectonics and volcanism.
Part IV: Pre-Quaternary Fluvial Systems:.
21 Transport modes and grain-size patterns in fluvial basins.
22 Gulf of Mexico basin depositional record of Cainozoic North American drainage basin evolution.
23 Fluvial-estuarine transitions in fluvial-dominated successions: examples from the Lower Pennsylvanian of the Central Appalachina Basin.
24 Palaeogeography and fluvial to estuarine architecture of the Dakota Formation (Cretaceous, Albian), eastern Nebraska, USA.
25 Improved understanding of fluvial architecture using three-dimensional geological models: a case study of Westphalian A Silkstone Rock, Pennine Basin, UK.
26 Changing alluvial style in response to changing accommodation rate in a proximal foreland basin setting: Upper Cretaceous Dunvegan Formation, NE British Columbia, Canada.
27 A new evaluation of fining-upward sequences in a mud-rock dominated succession of the Lower Old Red Sandstone of South Wales, Uk.
28 Reservoir scale sequence stratigraphy for hydrocarbon production and development: Tarbat-Ipundu, SW Queensland, Australia.
29 Recognition of a floodplain within braid delta deposits of the Oligocene Minato Formation, NE Japan: fine deposits correlated with transgression
Reviews
"The volume is...well-prepared and edited, and contains some excellent papers."
Journal of Sedimentary Research, June 2005
<!--end-->
"The editors have maintained high standards with the papers in this collection and the production is up to the usual high quality . . . with clear layout and high resolution diagrams and photographs."
Geological Magazine