Fly Fishing For Dummies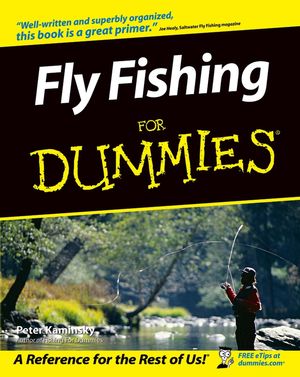 Fly Fishing For Dummies
ISBN: 978-0-764-55073-7 April 1998 384 Pages
Description
If you believe what you read, fly fishing requires the touch of a surgeon and the spirit of a Zen master. Forget about what you've heard about f ly fishing in the past, if you really want to learn how to fly fish all you need are the right tools, proper technique, and a positive attitude. With these essential elements you can begin to enjoy the sport of fly fishing in no time.

For those of you who have never held a fly rod, you will find enough information here to get you started. You won't be forced to discover everything all at once. If you're already a fly rodder, you'll find plenty of tips and techniques that you can turn to right away without going through the basics all over again. And if you're a master angler, you will find this book a handy reference for all kinds of questions.

Fly Fishing For Dummies explores the fun and fundamentals of fly fishing—from tying flies to reeling in your catch. Whether you're a novice or a veteran angler, here you? 8217;ll find all the tips and tricks for choosing the right kind of gear; how and where to catch freshwater and saltwater fish; visual examples of the art of casting; and how to read the water, wade, cast, and (finally) land yourself a whopper. You'll also find out how to:
Identify the best fish to fly fish for—from rainbow trout to black marlin
Improve your catch and release techniques
Continue your education through recommended references and online resources
Choose the right rod, reel, and gear to land the fish you are after
Master all the casting styles you'll ever need
Tie your own flies or choose pre-made ones proven to get results
With over 150 illustrations and proven advice, Fly Fishing For Dummies is a great primer on fly fishing's essential elements.
Buy Both and Save 25%!
Original Price:$43.98
Purchased together:$32.99
save $10.99
Cannot be combined with any other offers.
Introduction.

PART I: The Basics.

Chapter 1: What Every Fly Rodder Needs to Know.

Chapter 2: Choosing a Rod.

Chapter 3: Reels.

Chapter 4: Between the Rod and the Fish: Hooks, Lines, Leaders.

PART II: The Fish and the Flies.

Chapter 5: Trout and the Bugs They Love.

Chapter 6: Great Mayflies (And Why Trout Love Them).

Chapter 7: Tying Flies.

Chapter 8: Great Rivers for Trout.

Chapter 9: Freshwater Fish.

Chapter 10: The Beautiful Black Bass.

Chapter 11: Saltwater Fish.

Chapter 12: Saltwater Baits and Flies That Work.

PART III: Fly Fishing Essentials.

Chapter 13: Casting and Presentation: The Heart of the Game.

Chapter 14: The Right Time and the Right Place.

Chapter 15: Catching and (Often) Releasing.

Chapter 16: The Fly Fishing Wardrobe.

Chapter 17: Knots: A Few Will Do.

PART IV: The Part of Tens.

Chapter 18: Ten Good Books for Guidance.

Chapter 19: Ten Great Reads.

Chapter 20: Ten Top Fly Fishing Magazines.

Chapter 21: Fly Fishing as an Interactive Sport.

Index.

Book Registration Information.