Flying on One Engine: The Bloomberg Book of Master Market Economists (Fourteen Views on the World Economy)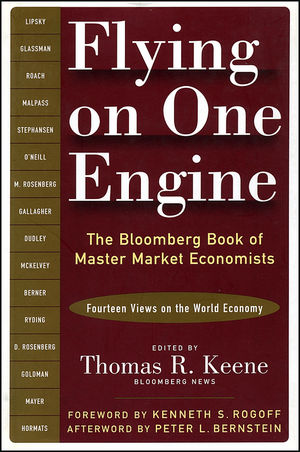 Flying on One Engine: The Bloomberg Book of Master Market Economists (Fourteen Views on the World Economy)
ISBN: 978-1-576-60176-1
Sep 2005
264 pages
Description
This book offers a window into a realm not often seen even by many sophisticated investors and policymakers—the methods, insights, and predictions of Wall Street's top market economists. These highly trained, broadly experienced thought leaders operate in the round-the-clock crucible of the world's financial markets. Their words affect the movement of billions of dollars every day.

Unique among participants in the capital markets, the chief economists at these leading firms combine a command of academic research, rigorous analytical methods for making sense out of a sea of market data, and decades of intuiting, quantifying, and verifying the complexities that connect today's real-time indicators to tomorrow's real-world events. Clarity—the hallmark of their work—is the thread that connects the chapters of this book. This is economics at its most practical and potentially profitable.

The sixteen contributors—a diverse spread of optimists and pessimists, yet realists all—dig deep to discern what lies ahead for the world economy. Whether the angle of attack is foreign trade and finance, demographics and deficits, or monetary theory and government policy, their expert views combine to shape a body of understanding that can help market watchers and market makers reach wise, timely investment and strategic decisions.
Foreword (Kenneth S. Rogoff).
About the Contributors.
Acknowledgments.
Introduction (Thomas R. Keene).


1    Reviving Employment Reflects Powerful Labor Market Transformations (John P. Lipsky, Chief Economist, JPMorgan Chase
James E. Glassman, Senior Economist, JPMorgan Chase).

2    The Global Labor Arbitrage (Stephen S. Roach, Chief Economist, Morgan Stanley).

3    America's Optimistic Future (David R. Malpass, Chief Economist, Bear Stearns).

4    How U.S. Fiscal Policy Aids Both U.S. and Global Growth (Kathleen Stephansen, Director of Global Economics, Credit Suisse First Boston).

5    Globalization and Trade--The Role of Proximity, Borders, and Culture (Tim O'Neill, Former Chief Economist, BMO Financial Group).

6    The Rise and Fall of the Dollar (Michael R. Rosenberg, Former Senior Strategist, Harbert Management Corp).

7    Politics and the Economy (Thomas D. Gallagher, Senior Managing Director, International Strategy & Investment Group).

8    The U.S. Fiscal Deficit--Not a Moment to Lose (William C. Dudley, Chief U.S. Economist, Goldman Sachs, Edward F. McKelvey, Senior U.S. Economist, Goldman Sachs).

9     Corporate Profits—Critical for Business Analysis (Richard B. Berner, Chief U.S. Economist, Morgan Stanley).

10  Monetary Policy, Wicksell, and Gold (John Ryding, Chief U.S. Economist, Bear Stearns).      

11  Commodity Price Pass-Through--Finished Before It Began? (David A. Rosenberg, Chief North American Economist, Merrill Lynch).

12  Capital Markets and the Economy (David P. Goldman, Head of Debt Research, Banc of America Securities).

13  Europe's Political and Economic Future (Thomas Mayer, Chief European Economist, Deutsche Bank).

14  The Economic Future of Asia (Robert D. Hormats, Vice Chairman, Goldman Sachs International).

Afterword (Peter L. Bernstein).
Index.
"A great deal of insight . . . myths are busted. Some daily noise on cable chat shows is revealed as superficial nonsense."
- Forbes.com, 9/23/05

"For advice on how to handle the turbulence, Bernanke may want to turn to Flying on One Engine. The book, a compilation of essays by sixteen top market economists, is a comprehensive view of how global economics can roil markets."
- CFO Magazine