Focused Operations Management: Achieving More with Existing Resources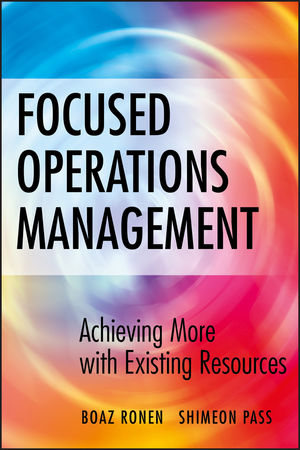 Focused Operations Management: Achieving More with Existing Resources
ISBN: 978-0-470-17969-7
Mar 2008
464 pages
Product not available for purchase
Description
Focused Operations Management shows how to do much more with existing resources in terms of throughput, response time and quality. It provides a system view and will touch upon performance measures, operations management, quality, cost-accounting, pricing, and above all, value creation and value enhancement.
Preface.
Acknowledgements.
About the Authors.
Part I: The Dynamic Management Environment.
Chapter 1. The Modern Business Environment.
Chapter 2.   Principles of Management in the Dynamic Environment.
Chapter 3. The Pareto Rule, the Focusing Table and the Focusing Matrix.
Part II: New Approaches in Management.
Chapter 4. Managing the System by its Constraints.
Chapter 5. Management by Constraints in a Bottleneck Environment.
Chapter 6. Managing by Constraints when the Market is the Constraint.
Chapter 7. Focused Current Reality Tree.
Chapter 8. Resolving Managerial Conflicts.
Chapter 9. The "Efficiencies Syndrome.
Chapter 10. The "Evils" of Long Response Times.
Chapter 11. Reducing Response Times.
Chapter 12. The Complete Kit Concept.
Chapter 13. Performance Measures and Managerial Control.
Chapter 14. The Effects of Fluctuations, Variability and Uncertainty on the System.
Chapter 15. The Evils of Traditional Cost Accounting.
Chapter 16. Market, Costing, and Pricing Considerations in Decision Making Processes.
Chapter 17. Quality Management and Process Control.
Part III: Strategy and Value Creation.
Chapter 18. Strategy, Positioning and Focusing.&
Chapter 19. Value Creation.
Part IV: Applying the Focused Management Approach.
Chapter 20. Value.Focused Project Management.
Chapter 21. Managing Research and Development.
Chapter 22. The Focused Management Approach in Logistics.
Part V: Perspective and Implementation.
Chapter 23. Our Managerial Credo.
References.
Recommended Readings.
Index.
Covers the use of methods such as the Theory of Constraints (TOC) that yield fast results.

Demonstrates how simple tools like the Focusing Table, the Focusing Matrix, the Complete Kit concept and applications of the Pareto Analysis can increase throughput, reduce response time and create value.

The methods described in the book are valuable for business organizations as well as nonprofit organizations. The methods are common-sense based, are applicable for both large and small organizations, and for managers of all levels.