Food Allergies For Dummies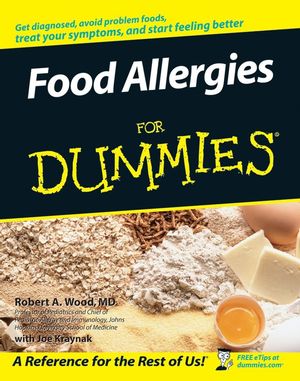 Food Allergies For Dummies
ISBN: 978-1-118-05113-9 April 2011 384 Pages
Description
Are you constantly worrying about what you or your loved ones eat? Is every dining experience an episode of anxiety for you? Being allergic to different types of food not only ruins the experience of eating, it can lead to dangerous, sometimes lethal, consequences.

With Food Allergies for Dummies, you can feel safer about what you eat. This concise guide shows you how to identify and avoid food that triggers reactions. This guide covers how to care for a child with food allergies, such as getting involved with his/her school's allergy policies, packing safe lunches, and empowering him/her to take responsibility for his allergy. You will also discover:
The signs and symptoms of food allergies
How to determine the severity of your allergy
Ways to eat out and travel with allergies
How to create your own avoidance diet
Ways to enjoy your meal without allergic symptoms
How to prevent food allergies from affecting your child
The latest research being done to treat food allergies
Food Allergies for Dummies also provides an in-depth chapter on peanut allergy and how to spot traces of peanut in your food. With this book, you will feel safer and more comfortable while you eat. And, with plenty of helpful resources such as Web sites and allergy-friendly recipes, you'll hardly have to worry about your diet!
Foreword.
Introduction.
Part I: Feasting on Food Allergy Fundamentals.
Chapter 1: Breaking Out with Food Allergies.
Chapter 2: Turning Allergies Inside Out: Probable Causes and Common Symptoms.
Chapter 3: Spotting the Usual Suspects: Wherefore Art Thou, Allergen?
Chapter 4: Picking On Peanuts: A Potentially Deadly Foe.
Part II: Progressing from Hives to Hope: Diagnosis and Treatment.
Chapter 5: Labeling Your Ailments with an Accurate Diagnosis.
Chapter 6: Concocting Your Own Avoidance Diet.
Chapter 7: Making It Stop: Finding Symptomatic Relief.
Chapter 8: Debunking Alternative Tests and Therapies.
Chapter 9: Exploring Cures from Mice to Man: Current Research.
Part III: Living Well with Your Food Allergies.
Chapter 10: Living at Home with Your Allergies.
Chapter 11: Eating Out and Traveling with Food Allergies.
Chapter 12: Conquering the Challenges of Daycare and Preschool.
Chapter 13: Sending Food Allergies Off to School: K-12.
Chapter 14: Empowering Your Adolescent or Teenager.
Chapter 15: Preventing and Outgrowing a Food Allergy.
Part IV: The Part of Tens.
Chapter 16: Teaching Your Child Ten Key Food Allergy Lessons.
Chapter 17: Packing Ten Key Food Allergy Tips for Camp, College, and Other Outings.
Chapter 18: Substituting Foods and Ingredients: Ten Common Dietary Substitutions.
Chapter 19: Exploring Ten Outstanding Food Allergy Web Sites.
Chapter 20: Responding to a Severe Reaction: Ten Do's and Don'ts.
Part V: Appendixes: Allergy-Friendly Recipes and Other Treats.
Appendix A: Breads & Breakfasts.
Appendix B: Main Courses.
Appendix C: Snacks and Cookies.
Appendix D: Cakes and Desserts.
Appendix E: Glossary.
Index.
""I would thoroughly recommend this book to all serious allergy sufferers"" (Women's Fitness, September 2007)