Food Borne Carcinogens: Heterocyclic Amines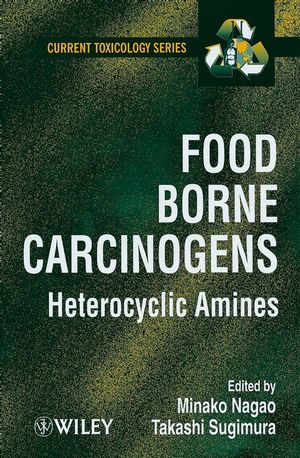 Food Borne Carcinogens: Heterocyclic Amines
ISBN: 978-0-471-98399-6 June 2000 392 Pages
Description
Current Toxicology Series Series Editors Diana Anderson Tno Bibra International Ltd, Surrey, UK Michael D Waters Consultant, Chapel Hill, NC, USA Timothy C Marrs Department of Health, London, UK Food Borne Carcinogens Heterocyclic Amines Edited by Minako Nagao, Tokyo University of Agriculture, Japan Takashi Sugimura, National Cancer Center, Japan Food Borne Carcinogens provides a comprehensive review of the genotoxic and carcinogenic activities of heterocyclic amines (HCAs) found in cooked foods. This unique and timely publication describes the latest research and offers an insight into new developments. Key topics covered include:
* Combination effects of HCAs in carcinogenesis
* Genetic alterations in animal tumours induced by HCAs
* Adduct levels yielded in humans by ordinary exposure levels
* Genetic polymorphisms in HCA metabolic enzymes and suspected individual differences in susceptibility to HCA carcinogenesis
Written by world-renowned experts in the field, this book will be essential reading for toxicologists and cancer researchers working within industry, academia and government, particularly, food scientists, genetic toxicologists, biochemists, nutritionists and those investigating risk evaluation of HCA's and the regulation of environmental carcinogens. It will also be of interest to other scientists involved in the identification of naturally occurring antimutagens and anticarcinogens.
Introduction (T. Sugimura & R. Adamson).

Organic Synthesis of the Heterocyclic Amines (S. Grivas).

Contents in Foods, Beverages and Tobacco (J. Felton, et al.).

Metabolism (Y. Yamazoe, et al.).

Interactions with Cellular Macromolecules (E. Snyderwine & K. Turteltaub).

Mutagenicity (M. Nagao).

Carinogenicity in Animals and Specific Organs (H. Ohgaki, et al.).

Degenerative Changes (K. Imaida, et al.).

Modulation of Mutagenicity and Carcinogenicity (R. Dashwood).

Epidemiology (K. Wakabayashi, et al.).

Complex Factors Pertinent to Human Hazard Risks (T. Sugimura, et al.).

Perspectives (M. Nagao & T. Sugimura).

Index.