Food Colours, 2nd Edition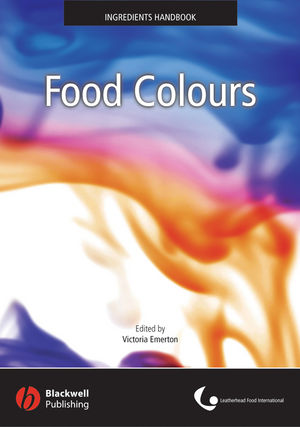 Food Colours, 2nd Edition
ISBN: 978-1-905-22444-9 June 2008 Wiley-Blackwell 197 Pages
Description
In recent years, the colours industry has undergone significant change, as a result of increasing consumer demand for natural, rather than synthetic food colours. The Food Colours Handbook details some of these changes within a concise, easy-to-use framework. With all chapters contributed by industry experts, the book contains reviews of synthetic, nature-identical, and natural colours.
Topics covered

The following topics are covered for each colour discussed;



Colour

Physical characteristics

Applications

Physiological properties

Analytical methods
This guide is an invaluable and authoritative source of reference on the commercial use of food colours for food technologists and other food-industry professionals, and contains a review of worldwide legislation allowing readers to gain an understanding of regulatory issues relating to food colouring in different countries.
Cannot be combined with any other offers.
Original Price:$476.90
Purchased together:$357.67
save $119.23
Cannot be combined with any other offers.
Original Price:$430.95
Purchased together:$323.21
save $107.74
Buy Both and Save 25%!
This item: Food Colours, 2nd Edition
Fish Oils (Hardcover $228.95)
Cannot be combined with any other offers.
Original Price:$452.90
Purchased together:$339.67
save $113.23
Table of contents
Foreword.
Introduction.
1 Natural Colours.
1.1 Annato.
1.2 Anthocyanins.
1.3 b-Apo-8'-carotenal.
1.4 b-Carotene.
1.5 Mixed carotenes.
1.6 Beetroot Red.
1.7 Canthaxanthin.
1.8 Caramel.
1.9 Carmine.
1.10 Chlorophyll.
1.11 Copper complexes of chlorophyllins.
1.12 Crocin.
1.13 Curcumin.
1.14 Ethyl ester of b-Apo-8'-carotenoic acid.
1.15 Lutein.
1.16 Lycopene.
1.17 Paprika.
1.18 Riboflavin.
2 Synthetic Colours.
2.1 Allura Red.
2.2 Amaranth.
2.3 Brilliant Black BN, Black PN.
2.4 Brilliant Blue FCF.
2.5 Brown FK.
2.6 Brown HT.
2.7 Carbon Black.
2.8 Carmoisine.
2.9 Erythrosine.
2.10 Fast Green FCF.
2.11 Green S.
2.12 Indigotine, Indigo Carmine.
2.13 Iron Oxides & Iron Hydroxides.
2.14 Litholrubine BK.
2.15 Patent Blue V.
2.16 Ponceau 4R.
2.17 Quinoline Yellow.
2.18 Sunset Yellow FCF.
2.19 Tartrazine.
2.20 Titanium Dioxide.
3 Legislation.
Suppliers
Features


Examines the range of commercially-used food colours, including synthetic, nature-identical, and natural colours


Physical characteristics, applications, physiological properties and analytical methods are examined for each of the 41 colours discussed


Contains useful appendices on legislation and suppliers