Food Contamination from Environmental Sources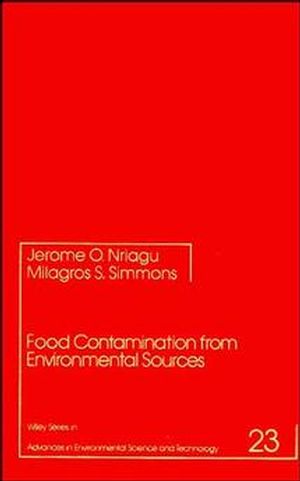 Food Contamination from Environmental Sources
ISBN: 978-0-471-50891-5
May 1990
785 pages
Description
Addresses issues in the contamination of food from environmental sources, considering the persistence of some toxic substances in the human food chain and the toxicological and health significance of observed contaminant levels. Provides critical and timely reviews on detection, sources, distribution, speciation and the bioavailability of environmental contaminants and their metabolites in various food products.
Partial table of contents:

Agricultural and Related Chemical Contamination in Foods: An Historical Perspective (D. Matthees).

Food Contamination with Cadmium in the Environment (J. Nriagu).

Food Contamination with Arsenic in the Environment (J. Nriagu & J. Azcue).

Residues of Dithiocarbamate Fungicides in Fruits, Vegetables, and Some Field Crops (N. Smart).

Pesticide Contamination of Food in the United States (A. Kulkarni & M. Ashoke).

Environmental Contamination of Food by Nitrosamines Derived from Pesticides (A. Khayat).

Pasteurized Diary Products: The Constraints Imposed by Environmental Contamination (J. Phillips & M. Griffiths).

Food Residues from Pesticides and Environmental Pollutants in Ontario (R. Franks & B. Ripley).

Environmental Contaminants in Mexican Food (L. Alberts).

Use of Organochlorine Pesticides for Pest Control in Buildings: The Effect on Occupants (C. Stacey).

Viral Disease Transmission by Seafood (R. De Leon & C. Gerba).

Appendix.

Index.