Food Safety: A Guide to What You Really Need To Know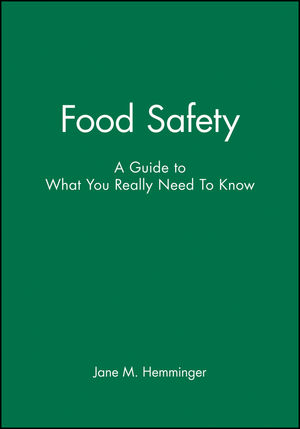 Food Safety: A Guide to What You Really Need To Know
ISBN: 978-0-813-82482-6
Apr 2000, Wiley-Blackwell
98 pages
Product not available for purchase
Description
Commissioned by the Iowa Dietetic Association, Food Safety: A Guide to What You Really Need to Know is a totally updated edition of Food Sanitation and Safety Study Course, Second Edition.


This book provides practical techniques and the most up-to-date Hazard Analysis Critical Control Points (HACCP) guidelines for handling food hazards, food preparation and service, cleaning and sanitation, trash, and pests.


Each chapter has figures and tables for increased understanding of the material and ends with study questions. Answers to the questions are provided. Appendixes feature a HACCP Flowchart, a Sanitation Walk-Through of all food preparation areas, and Recommended Storage Times for the refrigerator/freezer and the storeroom. A glossary provides specific definitions of key terms.
Acknowledgments.
Introduction.
1. Food Hazards.
2. Foodborne Illness.
3. Preparation and Service of Safe Food.
4. Cleaning and Sanitation.
5. Safety.
6. Facilities and Equipment.
7. Trash Removal.
8. Pest Control.
9. Inspections.
Appendix 1. Hazard Analysis Critical Control Points Flowchart.
Appendix 2. Sanitation Walk-Through.
Appendix 3. Maximum Recommended Storage Times (Refrigerator/Freezer).
Appendix 4. Maximum Recommended Storage Times (Storeroom).
Study Question Answers.
Glossary.
References.
"A condensed version of 96 pages in nine chapters. This book was reviewed by six industrial experts, who gave the contents a rave report. So do I.
The book belongs in every supermarket company's technical division, restaurant and deli, and should be prescribed at all schools."
Food & Beverage Reporter, April 2005
"I would recommend that this book become part of our high school syllabus."
Food & Beverage Reporter, March 2004