Food Safety Handbook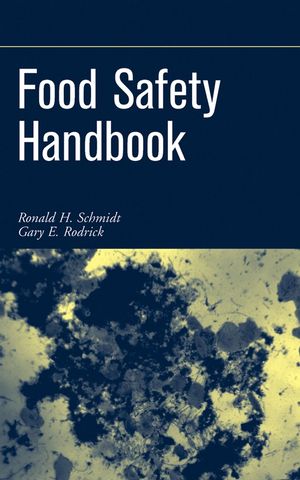 Food Safety Handbook
ISBN: 978-0-471-43227-2
Mar 2005
864 pages
Description
As with the beginning of the twentieth century, when food safety standards and the therapeutic benefits of certain foods and supplements first caught the public's attention, the dawn of the twenty-first century finds a great social priority placed on the science of food safety. Ronald Schmidt and Gary Rodrick's Food Safety Handbook provides a single, comprehensive reference on all major food safety issues. This expansive volume covers current United States and international regulatory information, food safety in biotechnology, myriad food hazards, food safety surveillance, and risk prevention.

Approaching food safety from retail, commercial, and institutional angles, this authoritative resource analyzes every step of the food production process, from processing and packaging to handling and distribution. The Handbook categorizes and defines real and perceived safety issues surrounding food, providing scientifically non-biased perspectives on issues for professional and general readers. Each part is divided into chapters, which are then organized into the following structure: Introduction and Definition of Issues; Background and Historical Significance; Scientific Basis and Implications; Regulatory, Industrial, and International Implications; and Current and Future Implications. Topics covered include:
Risk assessment and epidemiology
Biological, chemical, and physical hazards
Control systems and intervention strategies for reducing risk or preventing food hazards, such as Hazard Analysis Critical Control Point (HACCP)
Diet, health, and safety issues, with emphasis on food fortification, dietary supplements, and functional foods
Worldwide food safety issues, including European Union perspectives on genetic modification
Food and beverage processors, manufacturers, transporters, and government regulators will find the Food Safety Handbook to be the premier reference in its field.
Preface.
PART I: CHARACTERIZATION OF FOOD SAFETY AND RISKS (edited by Joan Rose).
Definition of Food Safety (R. Seward).
Characterization of Food Hazards (R. Seward).
Risk Analysis Frameworks for Chemical and Microbial Hazards (M. Coleman & H. Marks).
Dose-Response Modeling for Microbial Risk (C. Haas).
Exposure Assessment of Microbial Food Hazards (R. Whiting).
Exposure and Dose Response Modeling for Food Chemical Risk Assessment (C. Winter).
Economic Consequences of Foodborne Hazards (T. Roberts, et al.).
PART II: FOOD HAZARDS: BIOLOGICAL (edited by LeeAnne Jackson).
Prevalence of Foodbourne Pathogens (L. Jackson).
Physiology and Survival of Foodbourne Pathogens in Various Food Systems (G. Rodrick & R. Schmidt).
Characteristics of Biological Hazards in Foods (R. Bacon & J. Sofos).
Contemporary Monitoring Methods (J. Chen).
PART III: FOOD HAZARDS: CHEMICAL AND PHYSICAL (edited by Austin R. Long & G. Williams Chase).
Hazards from Natural Origins (J. Specchio).
Chemical and Physical Hazards Produced During Food Processing, Storage, and Preparation ( H. Rupp).
Hazards Associated with Nutrient Fortification (A. Reid).
Monitoring Chemical Hazards: Regulatory Information (D. Santiago).
Hazards Resulting from Environmental, Industrial, and Agricultural Contaminants (S. Bhandari).
PART IV: SYSTEMS FOR FOOD SAFETY SURVEILLANCE AND RISK PREVENTION (edited by Keith R. Schneider).
Implementation of FSIS Regulatory Programs for Pathogen Reduction (P. Stolfa).
Advances in Food Sanitation: Use of Intervention Strategies (J. Arnold).
Use of Surveillance Networks (C. Hedberg).
Hazard Analysis Critical Control Point (HACCP) (D. Newslow).
PART V: FOOD SAFETY OPERATIONS IN FOOD PROCESSING, HANDLING, AND DISTRIBUTION (edited by Barry G. Swanson).
Food Plant Sanitation (H. Carsberg).
Food Safety Control Systems in Food Processing (J. Feirtag & M. Velázquez).
Food Safety and Innovative Food Packaging (M. Rooney).
Safe Handling of Fresh-Cut Produce and Salads (D. Hentges).
Good Manufacturing Practices: Prerequisites for Food Safety (B. Swanson).
PART VI: FOOD SAFETY IN RETAIL FOODS (edited by Ronald H. Schmidt & Gary E. Rodrick).
Commercial Food Service Establishments: The Principles of Modern Food Hygiene (R. Costa).
Institutional Food Service Operations (R. Puckett).
Food Service at Temporary Events and Casual Public Gatherings (D. Scott & R. Gravani).
PART VII: DIET, HEALTH, AND FOOD SAFETY (edited by Mary K. Schmidl).
Medical Foods (M. Schmidl & T. Labuza).
Food Fortification (R. Turner).
Sports Nutrition (J. Slavin).
Dietary Supplements (C. Bartels & S. Miller).
Functional Foods and Nutraceuticals (R. Schmidt & R. Turner).
PART VIII: WORLD-WIDE FOOD SAFETY ISSUES (edited by Sara E. Valdés Martinez).
International Organization for Standardization ISO 9000 and Related Standards (J. Surak).
Impact of Food Safety on World Trade Issues (E. Lichtenberg).
United States Import/Export Regulation and Certification (R. López-García).
European Union Regulations with an Emphasis on Genetically Modified Foods (J. Blanchfield).
FAO/WHO Food Standards Program: Codex Alimentarius (E. Mendez & J. Lupien).
Index.
"Overall, Food Safety Handbook is an excellent overview of the scientific knowledge behind the growing food processing industry...." (Food Processing and Preservation, Volume 28 #1, April 2004)