Food Safety in the Seafood Industry: A Practical Guide for ISO 22000 and FSSC 22000 Implementation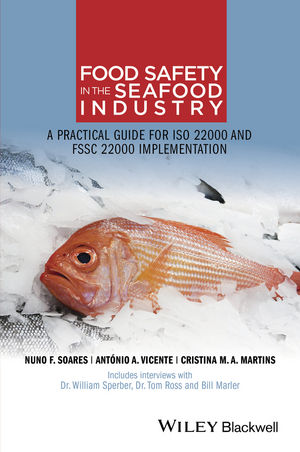 Food Safety in the Seafood Industry: A Practical Guide for ISO 22000 and FSSC 22000 Implementation
ISBN: 978-1-118-96508-5
Dec 2015, Wiley-Blackwell
200 pages
Description
Seafood is one of the most traded commodities worldwide. It is thus imperative that all companies and official control agencies ensure seafood safety and quality throughout the supply chain. Written in an accessible and succinct style, Food Safety in Seafood Industry: A practical guide for ISO 22000 and FSSC 22000 implementation brings together in one volume key information for those wanting to implement ISO 22000 or FSSC 22000 in the seafood manufacturing industry.
Concise and highly practical, this book comprises:
a presentation of seafood industry and its future perspectives
the description of the main hazards associated to seafood (including an annexe featuring the analysis of notifications related with such hazards published by Rapid Alert System for Food and Feed - RASFF)
interpretation of ISO 22000 clauses together with practical examples adapted to the seafood manufacturing industry
the presentation of the most recent food safety scheme FSSC 22000 and the interpretation of the additional clauses that this scheme introduces when compared to ISO 22000
This practical guide is a valuable resource for seafood industry quality managers, food technologists, managers, consultants, professors and students.
This book is a tool and a vehicle for further cooperation and information interchange around seafood safety and food safety systems. QR codes can be found throughout the book; when scanned they will allow the reader to contact the authors directly, know their personal views on each chapter and even access or request more details on the book content. We encourage the readers to use the QR codes or contact the editors via e-mail (foodsatefybooks@gmail.com) or Twitter (@foodsafetybooks) to make comments, suggestions or questions and to know how to access the Extended Book Content.
Forward
Acknowledgments
Introduction
Chapter 1 Fishery Sector
1.1 Characterization of seafood
1.1.1 Classification
1.1.2 Anatomy
1.1.3 Chemical composition
1.1.4 Marine Ecosystem
1.2 Characterization of seafood industry
1.2.1 Development of Fish Industry
1.2.2 Fish consumption and international trade
1.2.3 Fish production
1.2.4 Fish as source of income
1.2.5 World fleet
1.2.6 The status of fishery resources
1.2.7 Unveiling the future
1.3 Hazards assessment in seafood
1.3.1 Biological hazards
1.3.2 Chemical hazards
1.3.3 Physical hazards
1.4 Risks and benefits of seafood consumption
1.4.1 Seafood at the beginning of modern Human brain
1.4.2 Benefits and risks
Chapter 2 Food Safety
Chapter 3 The EN ISO 22000:2005
Chapter 4 Food Safety Management System EN ISO 22000:2005
Chapter 5 The FSSC 22000 Certification
Appendix 1
Appendix 2
Index
"The book Food safety in the seafood industry by Nuno F. Soares et al. helped us implement FSSC 22000 at our fish canning plant. It served as an excellent guide in our road to certification. I highly recommend it to any fish processing plant as well as any other food processing establishment" -Ruth Shifugula - Nov 2016

"A book being released today by Wiley-Blackwell just might be more effective in speaking to the seafood industry. Titled "Food Safety in the Seafood Industry: A Practical Guide for ISO 22000 and FSSC 22000 Implementation," this book comes at the problem not through American legalize, but the more practical world of international standards.
The authors including University of Minho facility members Christina M.A. Martin and Antonio A. Vicente, says seafood is one of the most traded commodities worldwide that needs to protect its supply chain. They seem committed to achieving such a goal. They 're asking readers to contact them after getting through with the book.
If they succeed in opening a worldwide discussion of seafood safety, it might even help to get more compliance with those seafood HACCP regulations. There might even come a day when there won't be so many warning letters going out to seafood processors" - Food Safety News – Dan Flynn -February 2016
"The authors do an exceptional job summarizing the drivers and issues while providing context for the required actions. Numerous discussions, illustrations and tables make the material easy to grasp. A thorough reference section completes the coverage. Anyone dealing with food safety or having to implement or maintain ISO 22000 or FSSC 22000 will benefit from reading this book". Quality Progress - Marc A. Feldman August 2016
"In this book, the characteristics of seafood industry's development and the factors that cause food safety problems were written by the authors in a simple yet informative text. At the same time, the ISO22000 standard and how the seafood industry can accomplish FSSC22000 certification are also described in detail in this book. This book allows quality managers working at the seafood industry to easily understand the technical points and master these standards. These professionals can take it as a handbook which guides them in their real work, thus saving the companies the expense of recruiting senior experts or inviting consulting companies to guide them. In fact, their quality managers can easily implement the process and achieve the certification of the food safety system. So, I strongly recommend this book to those who work in the seafood industry in China and around the world"- Kevin Wang – Editor-in-Chief of Food Safety Magazine - December 2016