Food Service Management by Checklist: A Handbook of Control Techniques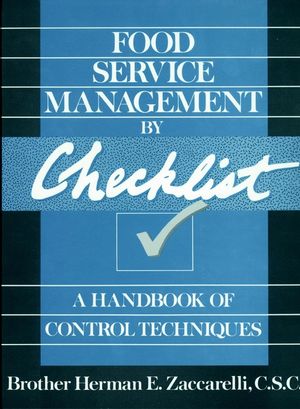 Food Service Management by Checklist: A Handbook of Control Techniques
ISBN: 978-0-471-53063-3 January 1991 256 Pages
Download Product Flyer
Download Product Flyer
Download Product Flyer is to download PDF in new tab. This is a dummy description. Download Product Flyer is to download PDF in new tab. This is a dummy description. Download Product Flyer is to download PDF in new tab. This is a dummy description. Download Product Flyer is to download PDF in new tab. This is a dummy description.
Description
"Whether in the classroom or on the job, this book will provide its users with the means for focused action plans. Like the food service operations which they are designed to measure, the checklists are organized to follow a flow ranging from the front of the house to the back of the house and up to the top of the house, covering all relevant procedures from food and beverage service to product handling to general administration. Modern issues such as cultural diversity, guest relations, food safety and sanitation, and energy management have been incorporated into the checklists. Another incredibly useful tool is a sample "Shopper's Report." Usually in the domain of classified information, this one form alone may be worth the cost of the book to students, consultants, and operators. "There is a lot to like in this book, but the section that I particularly appreciate is on how to orient and train new employees. Since checklists specify exactly which procedures should be followed, and often in which order, it is easy to provide new workers with all the information they need to perform their jobs knowledgeably and confidently. The checklists are designed in such a manner that they can be applied instantly. Most do not need modification to fit specific needs of individual operations. "In short, this book contains hundreds of checklists, not rehashed from other sources but intelligently compiled, prioritized and updated to meet the current and immediately foreseeable needs of food service operations. Many operators do not use checklists either because they do not know how to develop one or because they do not have time for such an objective and detailed analysis of their operations. This book is the answer. The operator can simply lift applicable items from selected sections and integrate them into a management system. Once readers become familiar and comfortable with checklists and procedures, they can go on to develop their own. As the author himself states, this is a book that is meant to be used rather than read. I did not just read this book; I devoured it. Food Service Management by Checklist is destined to become a classic." —Edward G. Sherwin Chairman, Hotel-Motel/Restaurant-Club Management Department Essex Community College
Table of contents
Partial table of contents:

All About Checklists.

CHECKLISTS FOR BASIC FOOD SERVICE MANAGEMENT FUNCTIONS.

Basic Management: Principles of Planning.

Basic Management: Principles of Coordinating.

Basic Management: Principles of Directing.

Basic Management: Principles of Evaluation.

PRODUCT CONTROL PROCEDURES.

Product Purchasing.

Product Storing and Issuing.

Product Service.

LABOR CONTROL PROCEDURES.

Employment and Personnel Management Practices.

OTHER RESOURCE CONTROL PROCEDURES.

Personal Time Management Procedures.

Management of Money.

OTHER SUPERVISION ACTIVITIES.

Personal Decision-Making Principles.

Managing Informal Groups.

Managing Employee Discipline.

Performance Appraisal.

Financial Management (Accounting).

Evaluation of Communication.

Orientation Topics (Initial Training and Handbook).

FOOD SERVICE MANAGEMENT PRIORITIES.

Guest Relations.

Safety.

Electronic Data Machine (Cash Register).

Bartender Control Procedures.

PROPERTY EVALUATION PROCEDURES.

Operational Review (Institutional Food Services).

Appendix.