Food Service Manual for Health Care Institutions, 3rd Edition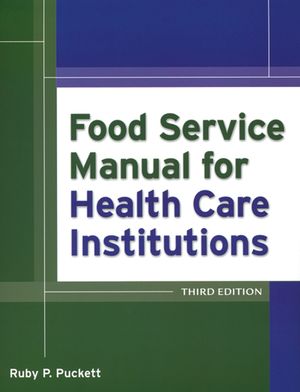 Food Service Manual for Health Care Institutions, 3rd Edition
ISBN: 978-0-787-97829-7
Nov 2004
600 pages
Description
Food Service Manual for Health Care Institutions offers a comprehensive review of the management and operation of health care food service departments. This third edition of the book—which has become the standard in the field of institutional and health care food service—includes the most current data on the successful management of daily operations and includes information on a wide variety of topics such as leadership, quality control, human resource management, communications, and financial control and management. This new edition also contains information on the practical operation of the food service department that has been greatly expanded and updated to help institutions better meet the needs of the customer and comply with the regulatory agencies' standards.
Figures, Tables, and Exhibits.
Foreword.
Preface.
Acknowledgments.
About the Author.
Introduction.
Chapter 1. Food Service Industry: An Overview.
Part One. Management of the Food Service Department
Chapter 2. Leadership: Managing for Change.
Chapter 3. Marketing.
Chapter 4. Quality Management.
Chapter 5. Planning and Decision Making.
Chapter 6. Organization and Time Management.
Chapter 7. Communication.
Chapter 8. Human Resource Management.
Chapter 9. Clinical Nutrition Care Management.
Chapter 10. Management Information Systems.
Appendix 10.1. Glossary of Computer Terms for Food Service Operators.
Chapter 11. Control Function and Financial Management.
Part Two. Operation of the Food Service Department
Chapter 12. Environmental Issues and Waste Management.
Chapter 13. Food Safety, Sanitation, and Hazard Analysis Critical Control Points.
Chapter 14. Safety, Security, and Emergency Preparedness.
Chapter 15. Menu Planning.
Chapter 16. Product Selection.
Chapter 17. Purchasing.
Chapter 18. Receiving, Storage, and Inventory Control.
Chapter 19. Food Production.
Appendix 19.1. A Culinary Glossary.
Chapter 20. Distribution and Service.
Chapter 21. Facility Design and Equipment Selection.
Index.