Food Supply Chain Management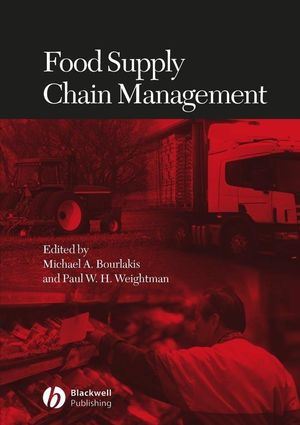 Food Supply Chain Management
ISBN: 978-1-405-10168-4 February 2004 Wiley-Blackwell 260 Pages
Description
Food Supply Chain Management
Edited by Michael A. Bourlakis and Paul W. H. Weightman
The food supply chain is a series of links and inter-dependencies, from farms to food consumers' plates, embracing a wide range of disciplines. Food Supply Chain Management brings together the most important of these disciplines and aims to provide an understanding of the chain, to support those who manage parts of the chain and to enhance the development of research activities in the discipline.

Food Supply Chain Management follows a 'farm to fork' structure. Each chapter starts with aims and an introduction and concludes with study questions that students in particular will find useful. Topics covered include the food consumer, perceived risk and product safety, procurement, livestock systems and crop production, food manufacture, retailing, wholesaling and catering. Special consideration is also given to supermarket supply networks, third party logistics, temperature controlled supply chains, organic foods and the U. S. food supply chain. A final chapter looks at the future for food supply chain management.

Michael Bourlakis and Paul Weightman, the editors and contributors to this timely and fascinating book, have drawn together chapters from leading authorities in this important area, to provide a book that is an essential purchase for all those involved in the supply of food and its study. Those involved in the food supply chain within food companies and in academic establishments, including agricultural scientists, food scientists, food technologists, and students studying these subjects, will find much of great use and interest within its covers. Libraries in all universities and research stations where these subjects are studied and taught should have several copies.

Dr Bourlakis and Dr Weightman teach and research at the School of Agriculture, Food and Rural Development, University of Newcastle upon Tyne, U. K.

Also available from Blackwell Publishing

The Microbiological Risk Assessment of Food
S. Forsythe
0 632 05952 4

HACCP
S. Mortimore & C. Wallace
0 632 05648 7

Listeria, 2nd edition
C. Bell & A. Kyriakides
1 405 10618 2
Salmonella
C. Bell & A. Kyriakides
0 632 05519 7

International Journal of Food Science & Technology
Published 10 times per year
ISSN 0950-5423

Metal Contamination of Food, 3rd edition
C. Reilly
0 632 05927 3
Cannot be combined with any other offers.
Original Price:$370.00
Purchased together:$277.50
save $92.50
Cannot be combined with any other offers.
Original Price:$381.50
Purchased together:$286.13
save $95.37
Table of contents
Preface.
Foreword.
Contributors.
1. Introduction to the UK Food Supply Chain: M. Bourlakis and P. Weightman.
2. The Food Consumer and the Supply Chain: D. Marshall.
3. Perceived Risk and Product Safety in the Food Supply Chain: M. Brennan and S. Kuznesof.
4. Procurement in the Food and Drink Industry in the Early 21st Century: J. Allinson.
5. The UK Livestock System: D. Harvey.
6. UK Crop Production: S. Wilcockson.
7. Food Manufacturing: D. Hughes.
8. Food Retail, Wholesaling and Catering: J. Dawson.
9. Partnerships and Alliances in UK Supermarket Supply Networks: R. Duffy and A. Fearne.
10. New Product Development and Information Technology in Food Supply Chain Management: The Case of Tesco: M. Francis.
11. Third Party Logistics in the Food Supply Chain: A. C. McKinnon.
12. Temperature Controlled Supply Chains: D. Smith and L. Sparks.
13. Factors Influencing Supply and Demand for Organic Foods: G. Butler, H. Newton, M. Bourlakis and C. Leifert.
14. The US Food Supply Chain: J. R. Stock.
15. The Future of the Food Supply Chain Management: C. Bourlakis and M. Bourlakis.
Index
Reviews
…one of those titles you really should have read as a professional operating in the supply chain and associated food industry...it is surprising that no authoritative text already covers the food supply chain.
The book is clearly laid out stepping through a series of chapters, each of which is well referenced to allow the reader to explore any particular area more deeply. For anyone wishing to understand the food supply chain, the chapters on livestock systems and crop production are essential.
This is a good all round text, that is accessible and genuinely covers all aspects of the food supply chain… and should be considered an essential read by any supply chain professional.
Control Magazine (The Institute of Operations Management), Vol 31, Number 4, 2005
Features


Subject of international importance.


A vital guide to those supplying the food industry.


Contains important information for students undertaking food studies courses.


Well-known editors and contributing authors.