Food and Beverage Cost Control, 5th Edition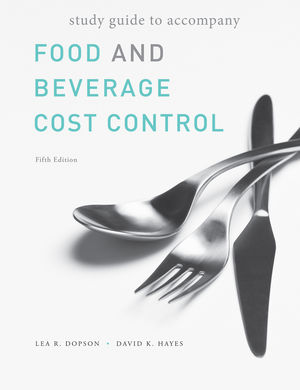 Food and Beverage Cost Control, 5th Edition
ISBN: 978-0-470-59798-9
Sep 2010
576 pages
Product not available for purchase
Description
For foodservice managers to control costs effectively, they must have a firm grasp of accounting, marketing, and legal issues, as well as food and beverage sanitation, production, and service methods. This fully updated fifth edition of Food and Beverage Cost Control provides students and managers with a wealth of comprehensive resources and the specific tools they need to keep costs low and profit margins high.
Preface.
Acknowledgments.
Chapter 1: Managing Revenue and Expense.
Chapter 2: Determining Sales Forecasts.
Chapter 3: Managing the Cost of Food.
Chapter 4: Managing the Cost of Beverages.
Chapter 5: Managing the Food and Beverage Production Process.
Chapter 6: Managing Food and Beverage Pricing.
Chapter 7: Managing the Cost of Labor.
Chapter 8: Controlling Other Expenses.
Chapter 9: Analyzing Results Using the Income Statement.
Chapter 10: Planning for Profit.
Chapter 11: Maintaining and Improving the Revenue Control System.
Chapter 12: Global Dimensions of Cost Control.
Glossary.
Bibliography.
Index.
Consider the Cost: a new feature that gives students the ability to directly apply what they've learned to actual situations they will encounter

Green and Growing: a new feature that emphasises the importance of sustainability and environmental responsibility as it relates to foodservice cost control

  An enhanced technology focus
Emphasises the practical aspects of cost control
"Apply What You Have Learned" exercises that focus on practical applications of topics and concepts in real-world industry scenarios
Provides ready-to-use forms and formulas that can be easily applied to a future manager's operations