Food and Beverage Service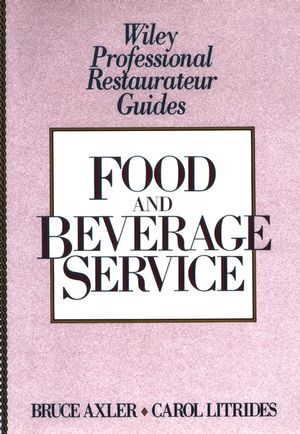 Food and Beverage Service
ISBN: 978-0-471-62176-8 February 1990 240 Pages
Description
"Required reading for every waiter, waitress, or maitre d'hotel … clearly written, and easy to follow …" —Manfred F. Ketterer Hospitality Management Instructor The Culinary Institute of America Wiley Professional Restaurateur Guides Food and Beverage Service Customer service is the key to a restaurants success and the most important factor in establishing your reputation. The first in a series of service guides, Food and Beverage Service offers essential information on all aspects of food and beverage service for restaurant managers, owners, and personnel. Written by two of today's top experts, the guide explains:
The responsibilities and procedures of typical positions—captains, servers, and bussers
The basics of food and beverage service—how to set the table, explain the menu, sell specials, take an order and pass it to the kitchen/bar, and more
A wide range of professional serving techniques and service styles—including American, French, Russian, butler, and cafeteria
BUSSER.

Job Description: Busser.

Getting Ready to Serve.

Preparing for the Guests' Arrival.

Preparing Garnishes and Food.

Beverages.

Once Customers Arrive: Basic Responsibilities During Service.

SERVER.

Job Description: Server.

Basic Service Skills and Equipment.

Tray Handling.

Service Basics: Serving a Whole Table.

Service: Step by Step.

Styles of Foodservice.

CAPTAIN.

Job Description: Captain.

Group Sales.

Beverage Drama.

Special Dining Room Personnel.

Advanced Techniques.

Carving in the Dining Room.

Flambeing.

Tableside Preparation of Cold Items.

Tableside Cooking.

Appendices.

Glossary of Tableservice Terms and Phrases.

Index.