Food and Wine Pairing: A Sensory Experience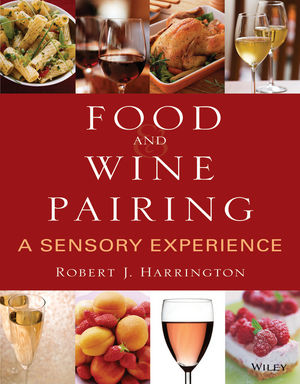 Food and Wine Pairing: A Sensory Experience
ISBN: 978-0-471-79407-3
Mar 2007
336 pages
Description
Food and Wine Pairing: A Sensory Experience provides a series of discussion and exercises ranging from identifying basic wine characteristics, including visual, aroma, taste (acid, sweetness, oak, tannin, body, etc.), palate mapping (acid, sweet, sour, bitter, and tannin), basic food characteristics and anchors of each (sweet, sour, bitter, saltiness, fattiness, body, etc). It presents how these characteristics contrast and complement each other. By helping culinary professionals develop the skills necessary to identifying the key elements in food or wine that will directly impact its matching based on contrast or similarities, they will then be able to predict excellent food and wine pairings.
Preface.
Acknowledgments.
PART A: MASTERING THE ART AND SCIENCE OF FOOD AND WINE PAIRING.
Chapter 1. The Wine and Food Pyramid: A Hierarchy of Taste.
Chapter 2. Taste Basics and the Basics of Wine Evaluation.
Chapter 3. Gastronomic Identity: The Effect of the Environment and Culture on Prevailing Components, Texture, and Flavors in Wine and Food.
Chapter 4. Gastronomic Identity II: Food and Cuisine: The Effect of The Environment and Culture on Gastronomy, Wine and Food Marriages, and Tourism.
PART B: THE FOUNDATION: WINE AND FOOD TASTE COMPONENTS.
Chapter 5. the Impact of Sweetness and Acidity Levels In Wine and Food.
Chapter 6. Salt, Bitterness, and Bubbles.
PART C: WINE AND FOOD TEXTURE CHARACTERISTICS.
Chapter 7. Wine Texture Characteristics: Tannin, Oak, and Body.
Chapter 8. Food Texture Characteristics: Fattiness, Cooking Methods, Protein, and Body.
PART D: FLAVORS: ARCHITECTURAL ELEMENTS IN THE WINE AND FOODD PAIRING PROCESS.
Chapter 9. The Impact of Spice.
Chapter 10. Flavor Intensity and Flavor Persistency.
PART E: THE WHOLE ENCHILADA: PUTTING IT ALL TOGETHER.
Chapter 11. Menu Planning: Horizontal and Vertical Pairing Decisions.
Chapter 12. Wine and Cheese: A Natural Affinity?
Chapter 13. The Grand Finale: Dessert and Dessert Wines.
Chapter 14. The Customer Experience: Product, Service, and Training Issues.
Glossary.
Index. 
Provides a discussion on the foundations of components of sweet, sour, salt, and bitter in food and dry, acidity, and effervescence in wine
Provides information on wine texture (the impact of tannin, oak, and body),   food texture (the impact of fattiness, cooking method, protein type, and body), and the interaction between wine and food texture elements
Discusses the implications of spice, flavor type, flavor intensity, and flavor persistency on food and wine matching
Provides a systematic process for predicting match levels and guidance on pairing wine with cheese and wine with dessert
Chapter exercises build on earlier ones to create an organized approach to develop skill and understanding of the pairing process
The only book that presents food and wine pairing from a culinary and sensory perspective rather than the perspective of a wine sommelier, vintner, and viticulture perspective
Presents business opportunity and training ideas to assist restaurant managers in increasing wine sales based on pairing techniques
Written to develop and refine skills in wine and food pairing
Provides a basic knowledge of food and wine characteristics to enable confidence in wine selection and food pairing
Includes vignettes on industry organizations and wine and food that include topics such as creating tasting menus and marketing food and wine events
Features information on developing skills in differentiating wine varietals