Food and the City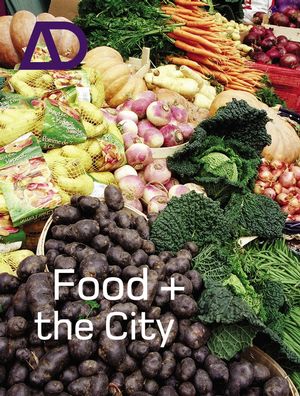 Food and the City
ISBN: 978-0-470-09328-3
Jul 2005
128 pages
Description
Food and the City makes the relationships between food and the city visible by exploring both the ways in which buying and eating food have become such a significant part of urban public life, and the ways in which design supports and enhances the place of food in the city. It is timely because the proliferation of urban cafes, restaurants, and markets continues, but is not sufficiently recognized or analyzed. Food related topics are now of great interest in academic and design disciplines but the theme of this issue, food as it relates to the variety and vitality of urban life, has not been addressed. Food and the City, will develop ideas from the popular Food and Architecture (2002). 

Contents include: Raw, Medium, Well Done: A Typological Reading of Australian Cafes by Jane Lawrence & Rachel Hurst; Blurring Boundaries, Defining Place: The New Hybrid Space of Dining by Gail Satler; The New and the Rare: Gourmet Food in the Japanese Department Store by Masaaki Takahashi; Tasting the Periphery: Bangkok's Agri and Aqua-cultural Fringe by Brian McGrath & Danai Thaitakoo; "Big Sign" Dining in Hong Kong: The City as Dining Room by Jeffrey W. Cody and Mary C. Day; Taste, Sound and Smell:  On the Street in Chinatown and Little Italy by Nisha Fernando; What's Eating Manchester? Gastro-culture and Urban Regeneration David Bell & Jon Binnie; Designing the Gastronomic Quarter by Susan Parham
Editorial 
(Helen Castle).
The City as Dining Room, Market and Farm  (Karen A Franck).
Raw, Medium, Well Done: A Typological Reading of Australian Eating Places  (Rachel Hurst & Jane Lawrence).
Taste, Smell and Sound On the Street in Chinatown and Little Italy  (Nisha Fernando).
The New and the Rare: Luxury and Convenience in Japanese Depa-chika  (Masaaki Takahashi).
Food for the City, Food in the City  (Karen A Franck).
Tasting the Periphery: Bangkok's Agri- and Aquacultural Fringe  (Brian McGrath & Danai Thaitakoo).
Urban Agriculture: Small, Medium, Large  (Gil Doron).
The City as Dining Room: Big-Sign Dining in Hong Kong  (Jeffrey W Cody & Mary C Day).
Blurring Boundaries, Defining Places: The New Hybrid Spaces of Eating  (Gail Satler).
Out of the Kitchen and onto the Footpath  (Louisa Carter).
What's Eating Manchester? Gastro-Culture and Urban Regeneration  (David Bell & Jon Binnie).
Designing the Gastronomic Quarter  (Susan Parham).
AD+
Interior Eye: Shopping at MoMA  (Craig Kellogg).
Building Profile: Fawood Children's Centre  (Jeremy Melvin).
Home Run: Self-Build Housing in Peckham  (Bruce Stewart).
McLean's Nuggets:  Will McLean - Practice Profile: Walters and Cohen  (Jeremy Melvin).
Site Lines: Jackson-Triggs Niagara Estate  (Sean Stanwick).
"...Food and the City fills the reader's plate with fare enough to savour and digest." (Frame, No 46 September 2005)