Food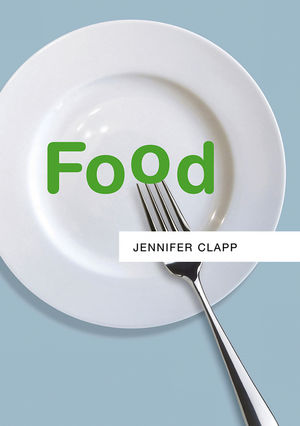 Food
ISBN: 978-0-745-65947-3
May 2013, Polity
200 pages
Product not available for purchase
Description
Food is one of the most basic resources that humans need for daily survival. Forty percent of the world's population gains a livelihood from agriculture and we all consume food. Yet control over this fundamental resource is concentrated in relatively few hands. The 2008 food price crisis illustrated both the volatility and vulnerability built into the current global food system; at the height of the crisis, the number of hungry people on the planet climbed to over 1 billion. At the same time, there are serious ecological consequences that stem from an increasingly industrial model of agriculture that has spread worldwide.

This book aims to contribute to a fuller understanding of the forces that influence and shape the current global food system. Author Jennifer Clapp explores how corporate control, inequitable international agricultural trade rules, and the financialization of farm commodities have each had a fundamental influence on the practices that dominate today's global food system. By contrast, farmers and consumers, particularly in the developing world, have had little voice to change the rules of the game. But movements are emerging to challenge the dominant global system. The extent to which these alternative movements can displace it, however, remains to be seen.

Acknowledgments page viii
List of Abbreviations x
List of Figures and Tables xiii
1 Unpacking the World Food Economy 1
2 The Rise of a Global Industrial Food Market 24
3 Uneven Agricultural Trade Rules 57
4 Transnational Corporations 90
5 Financialization of Food 125
6 Can the World Food Economy Be Transformed? 158
Notes 184
Selected Readings 203
Index 210
"In this admirably clear exposition Clapp explains the increasing 'financialisation' of and speculation in food commodities. Will sub-prime eaters be blamed for some future market crash? It makes you think twice about a second breakfast."
The Guardian
"Clapp explains in a clear and concise way that food is not only a simple source of nourishment, but it also represents a political issue that connects us all. Definitely a good guide for anyone who is trying to orientate themselves in the economic global jumble."
Global Journal

"In an increasingly complex argument that Clapp does well to unmuddy, she shows how the development of the world food economy is not the full picture - hers is a story that needs to be heard."
Irish Examiner

"Clapp does a fantastic job in opening up a space herself to act upon global injustices in the world food economy by shortening the mental distance that exists between us, food consumers, and the social, economic and ecological relationships associated with the food we eat."
Global Policy Journal

"An outstanding and accessible book for courses in food politics, globalization, economics, or international relations."
Agriculture and Human Values

"Clapp draws from her vast knowledge of economics, politics, and the environment to write insightfully about the events that contributed to the development of the world food economy."
Cuizine: The Journal of Canadian Food Cultures

"Clapp's work provides a concise, accessible analysis of the complex system that surrounds one of the most basic of necessities yet offers sufficient depth to actas an introductory text for those who wish to further understandthe food system."
Environment: Science and Policy for Sustainable Development

"Clapp's concise, accessible prose, and her deep engagement with the subject matter should ensure that this book enjoys a readership well beyond the academy."
Organization and Environment

"An excellent diagnostic about the constitution, evolution and the challenges of the global food system, making it indispensible for development practitioners, policy makers, social movements, academics interested in learning about the emerging field of food studies, as well as all those who would like to understand (and eventually transform) the distribution of power in the food system."
Journal of International Development

"The new must-read primer for those trying to make sense of the suddenly turbulent world of drought and food shortages, price spikes and financial crises, biofuels and commodity index funds, food riots, and social unrest."
Review of Policy Research

"A relevant and current text that creates a great common platform from which to jump to explore community governance of the food system."
Economic Geography

"A fascinating glimpse inside the food machine."
Cost Sector Catering
"Covering the most salient features of the global food economy in just a couple of hundred pages is a pretty daunting task, but it is one which Jennifer Clapp manages to achieve ... A finely detailed and well researched volume."
Morning Star
"A sharp, concise and satisfyingly detailed field-guide to the hegemons of the world food economy."
Raj Patel, author of The Value of Nothing
"Jennifer Clapp explains what happens when food is no longer considered a mere source of nourishment or cultural element but is transformed into a fungible commodity. Clapp unpacks and clarifies the mind-numbing complexities of transnational corporations, international trade, and financial markets. Best of all, the book provides precisely the information and tools advocates need to redesign the global food economy to promote fair trade, food justice, and food sovereignty."
Marion Nestle, New York University
"This excellent book explains why food has become a hot political issue on the global stage. The author clearly knows her subject and offers an insightful, engaging, and highly accessible introduction to the global food economy."
Robert Falkner, London School of Economics and Political Science
This is a new title in Polity's 'Resources' series, a range of short books designed to provide readers with engaging guides to the geopolitical issues surrounding key resources.
Written in a highly accessible style, this book delves into the industrial and financial factors that determine the global food system
The book includes an analysis of recent movments which champion more stable and sustainable alternatives to the current system
Jennifer Clapp is an expert in environmental and resource studies, and her book will appeal both to the general reader and to students in a range of disciplines