Foodservice Facilities Planning, 3rd Edition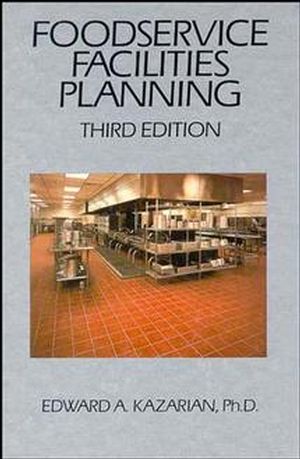 Foodservice Facilities Planning, 3rd Edition
ISBN: 978-0-471-29063-6 August 1988 424 Pages
Description
The foodservice industry gets more competitive every day. As a result, initial planning is extremely important and has become a key factor in determining the success or failure of an operation. This fully updated edition of the best-selling text on foodservice facilities planning shows students how to create a facility that blends the most efficient work environment with an ambience that will attract more customers. Students will find all-new information on how to—
cost-effectively design an operation
properly select and efficiently maintain equipment
successfully plan and accurately evaluate foodservice layouts
plan fast-food facilities and bakeshops
cut costs through more efficient energy planning.
Equipped with this comprehensive book, students will develop expertise in all aspects of foodservice facilities planning, from prospectus to finished facility. The author provides sample layouts of award-winning floor plans from which effective designs can be modeled. Students will also find practical exercises that help prepare them for common problems that may arise while planning their own operation. They will also learn how to organize data to begin planning, how to develop feasibility studies, how to fully equip and operate their own facility, and most important, how to make their facility achieve maximum productivity and profits. Whether you are a student just learning the business, a foodservice planner, consultant, or decision maker in the industry, this practical reference book can make you an indispensable member of the foodservice facility planning team. An ideal classroom tool for students interested in careers in the foodservice industry, Foodservice Facilities Planning can also offer firm guidance to veteran foodservice planners, consultants, and decision makers.
Table of contents
Introduction to Foodservice Facilities Planning.

The Planning Process.

The Planning Team.

Preparing the Prospectus.

The Feasibility Study.

Functional Planning.

Planning the Atmosphere.

Workplace Design.

Equipment Requirements.

Equipment Selection and Design.

Equipment and Facility Maintenance.

Space Requirements.

Layout of Facilities.

Evaluating Foodservice Layouts.

Sample Foodservice Layouts.

A Glossary of Foodservice Equipment Terms.

Appendices.

Index.