Foodservice Management Fundamentals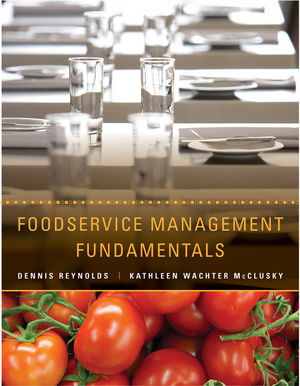 Foodservice Management Fundamentals
ISBN: 978-1-118-54560-7 December 2012 432 Pages
Description
Foodservice Management Fundamentals delivers critical information to help students learn how to position, manage, and leverage a successful foodservice operation. The compilation of management practices, tools, and techniques illustrates essential approaches to all segments of the foodservice industry. The overarching goal throughout the text is to focus on management-related topics that, when addressed with creativity, strong analytical skills, capable interpersonal skills, and operational acumen lead to a positive bottom line.
Today, foodservice management requires a variety of skills and abilities, including creativity, analytical skills, interpersonal skills, and operational acumen.  As foodservice industry revenues increase, so the number of college programs featuring foodservice-management courses in nutrition, dietetic, food science, and hospitality management programs  has grown.
PART I: THE FOODSERVICE INDUSTRY
Chapter 1: The Foodservice Industry
Chapter 2: The Foodservice Business
PART II: THE MENU
Chapter 3:  Menu Planning and Development
Chapter 4: Recipe Standardization, Costing, and Analysis
Chapter 5: Menu Pricing
PART III: THE FOODSERVICE OPERATION
Chapter 6: Facilities Planning, Design, and Equipment
Chapter 7: Food Sanitation and Safety
Chapter 8: Supply Chain Management
Chapter 9: Food Management
PART IV: GENERAL MANAGEMENT
Chapter 10: Financial Management
Chapter 11: Customer Service
Chapter 12: Marketing
Chapter 13: Human Resource Management
Chapter 14: Leadership and Management
Part V: Advanced Management
Chapter 15: Internal Control
Chapter 16: Operational Analyses
Chapter 17: Beverage Management
Chapter 18: The Future of the Foodservice Industry
Focuses on preparing the student to succeed in the broad range of foodservice operations, covering quick service, fast casual, family/midscale, moderate/theme, fine dining, and on site.
Offers multiple approaches to many common foodservice management issues.
Each chapter begins with a clear statement of learning objectives to guide students through the material.
Photographs, illustrations, and tables enhance the presentation of topical material, helping students visualize key aspects of the foodservice business.
Real-word case studies reinforce chapter learning objectives.
Each chapter concludes with managerial implications, summarizing key points, a short case study, and chapter industry exemplars provide useful information as well as real-world illustrations of the qualities that make them leaders in their segments.