Foodservice Management Fundamentals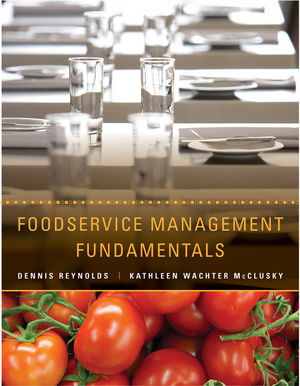 Foodservice Management Fundamentals
ISBN: 978-1-118-54560-7
Dec 2012
432 pages
Description
Foodservice Management Fundamentals delivers critical information to help students learn how to position, manage, and leverage a successful foodservice operation. The compilation of management practices, tools, and techniques illustrates essential approaches to all segments of the foodservice industry. The overarching goal throughout the text is to focus on management-related topics that, when addressed with creativity, strong analytical skills, capable interpersonal skills, and operational acumen lead to a positive bottom line.
Today, foodservice management requires a variety of skills and abilities, including creativity, analytical skills, interpersonal skills, and operational acumen.  As foodservice industry revenues increase, so the number of college programs featuring foodservice-management courses in nutrition, dietetic, food science, and hospitality management programs  has grown.
PREFACE ix
Acknowledgments xiii
About the Authors xiv
PART 1: THE FOODSERVICE INDUSTRY 1
CHAPTER 1 THE FOODSERVICE INDUSTRY 3
History 4
Segmentation 11
Industry Statistics 15
Managerial Implications 16
CASE IN POINT: The College Experience 17
CHAPTER 2 THE FOODSERVICE BUSINESS 21
What Makes the Foodservice Business
Unique? 22
Key Characteristics 22
Trends 23
Business Lifecycle 23
Understanding the Marketplace 25
Value from the Customers' Perspective 28
Managerial Implications: Maximizing Opportunities in the Competitive Marketplace 33
CASE IN POINT: Restaurant No. 2 35
PART 2: THE MENU 39
CHAPTER 3 MENU PLANNING AND DEVELOPMENT 41
Philosophy 42
Planning 43
Menus in Onsite Foodservice 50
The Art of Menu Development 65
Sustainability in Menu Planning 66
Managerial Implications 69
CASE IN POINT: The Handwritten Menu 71
CHAPTER 4 RECIPE STANDARDIZATION, COSTING, AND ANALYSIS 73
Recipe Standardization 74
Recipe Costing 83
Recipe Analysis 84
Managerial Implications 85
CASE IN POINT: Recipe, What Recipe? 88
CHAPTER 5 MENU PRICING 91
Pricing Approaches 92
Menu Psychology 95
Extending Menu Philosophy 104
Menu Engineering 105
Managerial Implications 107
CASE IN POINT: The $47 Burger 108
PART 3: THE FOODSERVICE OPERATION 111
CHAPTER 6 FACILITIES PLANNING, DESIGN, AND EQUIPMENT 113
Planning 114
Design and Layout 118
Equipment 124
Corporate Responsibility 126
Managerial Implications 127
CASE IN POINT: Trash Cans 130
CHAPTER 7 FOOD SANITATION AND SAFETY 133
Foodborne Illness 134
Biological, Chemical, and Physical
Hazards in Food 138
Foodborne Illness Prevention 140
Workplace Safety 149
Material Safety Data Sheets (MSDS) 151
Managerial Implications 152
CASE IN POINT: Food Safety at the Nursing Home 156
CHAPTER 8 SUPPLY CHAIN MANAGEMENT 159
Purchasing 160
Distribution Channels 163
Supplier Selection 165
Methods of Buying 168
Forecasting 169
Managerial Implications 173
CASE IN POINT: Purchasing in University Dining
Services 176
CHAPTER 9 FOOD MANAGEMENT 179
Receiving 180
Storage Management 185
Inventory Management 189
Production Management 198
Managerial Implications 201
CASE IN POINT: The Automotive Plant 203
PART 4: GENERAL MANAGEMENT 207
CHAPTER 10 FINANCIAL MANAGEMENT 209
Accounting Overview 210
Financial Statements 215
Analyzing Financial Statements 223
Cost Concepts 228
Budgeting 230
Managerial Implications 234
CASE IN POINT: You Can't Take Percentages to the Bank 236
CHAPTER 11 CUSTOMER SERVICE 239
Style and Philosophy 240
Measurement 248
Quality and Standards 253
Service Failure and Recovery 256
Managerial Implications 258
CASE IN POINT: Pineapple or Pickle—Who's to Say? 259
CHAPTER 12 MARKETING 263
The Science of Marketing 264
Social Marketing 265
Strategic Marketing 265
Service Marketing 271
Marketing and Unit-Level Operations 272
Branding 274
Managerial Implications 276
CASE IN POINT: The Entrepreneurial Baker 278
CHAPTER 13 HUMAN RESOURCE MANAGEMENT 281
What Is the Job? 282
Finding, Hiring, and Keeping the Best People 287
Staffing and Scheduling 295
Compensation 298
Managerial Implications 300
CASE IN POINT: New Employees or New
Motivational Techniques? 302
CHAPTER 14 LEADERSHIP AND MANAGEMENT 305
Leadership's Evolution 306
Leadership versus Management 311
Supervision 315
Leadership Development 318
Ethics 318
Managerial Implications 321
CASE IN POINT: Daphne's Dilemma 324
PART 5: ADVANCED MANAGEMENT 327
CHAPTER 15 INTERNAL CONTROL 329
Why Is Internal Control Necessary? 330
Conditions Conducive to Fraud and Embezzlement 333
General Principles 334
Identifying Employee Theft 341
The Best Deterrent 343
Managerial Implications 344
CASE IN POINT: Pennies, Nickels, and Dimes 346
CHAPTER 16 OPERATIONAL ANALYSES 351
Revenue Management 352
Cost-analysis Techniques 358
Operational Analysis Techniques 359
The Pareto Principle 363
Managerial Implications 364
CASE IN POINT: Sales and Labor 368
CHAPTER 17 BEVERAGE MANAGEMENT 371
Beverage Industry Overview 372
Responsible Beverage Alcohol Service 377
Beverage Control 381
Staff Training 388
Managerial Implications 390
CASE IN POINT: The Fake ID 393
CHAPTER 18 THE FUTURE OF THE FOODSERVICE INDUSTRY 395
Lessons from the Past 396
Forces for Change 398
Predictions by Segment 402
Technology in 2050 407
CASE IN POINT: The Traditional Family-style
Restaurant 411
INDEX 415
Focuses on preparing the student to succeed in the broad range of foodservice operations, covering quick service, fast casual, family/midscale, moderate/theme, fine dining, and on site.
Offers multiple approaches to many common foodservice management issues.
Each chapter begins with a clear statement of learning objectives to guide students through the material.
Photographs, illustrations, and tables enhance the presentation of topical material, helping students visualize key aspects of the foodservice business.
Real-word case studies reinforce chapter learning objectives.
Each chapter concludes with managerial implications, summarizing key points, a short case study, and chapter industry exemplars provide useful information as well as real-world illustrations of the qualities that make them leaders in their segments.