Fooled by Rational Turbulence: How Rational Learning Breeds Market Turbulence, and Why We Need It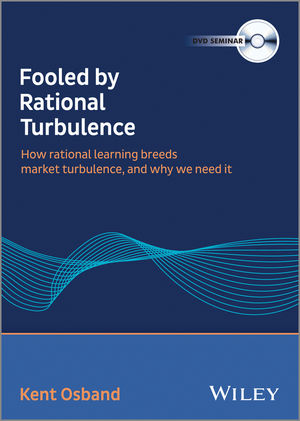 Fooled by Rational Turbulence: How Rational Learning Breeds Market Turbulence, and Why We Need It
ISBN: 978-1-118-65721-8
Feb 2013
500 pages
Product not available for purchase
Description
Run Time: 36.36 minutes Kent Osband, Founder of RiskTick LLC, a consultancy tracking financial turbulence philosophizes that like the atmosphere or the seas, financial markets sometimes get so stirred up that it seems like angry spirits must be stirring them. In fact, any sufficiently abrupt change in beliefs -- including from perfectly rational learning -- is bound to trigger major uncertainty, disagreement and market turbulence:
- Turbulence limits predictability and can make perfectly rational investors look foolish.
- Turbulence has merits too: without it we might need hundreds of years to recover confidence after deep crisis.
- Better appreciation of rational turbulence is key to improving finance theory, financial regulation, and investment practice.
This video, one of six from the Wiley WILMOTT Summit on Risk and Quantitative Modeling in Finance, held on the 11th December 2012 at Columbia University, New York feature the presentations from thought leaders and industry experts aiming to draw together some of the lessons of the last decade in order to restate the discipline's fundamental role in driving the future success of the global market economy.
This is the time to define what quantitative finance really means beyond the fallout of the global financial crisis and to identify the technology and techniques that will power innovation and growth.
Videos in this series include:
 Paul Wilmott - Recent Advances in Stupid Ideas in Quant Finance
Kent Osband - Fooled by Rational Turbulence 
Aaron Brown - And The Cows That Were Ugly and Gaunt Ate Up The Seven Sleek, Fat Cows
Patrick S. Hagan - On Beyond Black: Volatility Surfaces and Dark Noise
Edward O. Thorp - What Finance Has Taught Me
Chaired by Jack Schwager – Wiley Wilmott Summit Debate, Is Finance the sickness or the cure? Joined by Paul Wilmott, Kent Osband, Aaron Brown and Patrick S. Hagan