Fooling Some of the People All of the Time, A Long Short (and Now Complete) Story, Updated with New Epilogue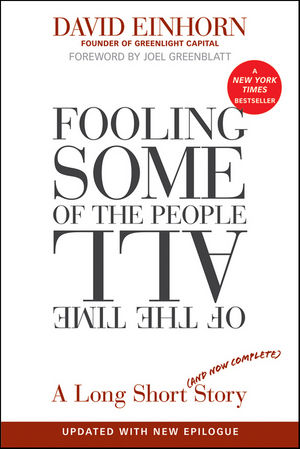 Fooling Some of the People All of the Time, A Long Short (and Now Complete) Story, Updated with New Epilogue
ISBN: 978-0-470-48154-7 December 2010 448 Pages
Description
A revealing look at Wall Street, the financial media, and financial regulators by David Einhorn, the President of Greenlight Capital
Could 2008's credit crisis have been minimized or even avoided? In 2002, David Einhorn-one of the country's top investors-was asked at a charity investment conference to share his best investment advice. Short sell Allied Capital. At the time, Allied was a leader in the private financing industry. Einhorn claimed Allied was using questionable accounting practices to prop itself up. Sound familiar? At the time of the original version of Fooling Some of the People All of the Time: A Long Short Story the outcome of his advice was unknown. Now, the story is complete and we know Einhorn was right. In 2008, Einhorn advised the same conference to short sell Lehman Brothers. And had the market been more open to his warnings, yes, the market meltdown might have been avoided, or at least minimized.
Details the gripping battle between Allied Capital and Einhorn's Greenlight Capital
Illuminates how questionable company practices are maintained and, at times, even protected by Wall Street
Describes the failings of investment banks, analysts, journalists, and government regulators
Describes how many parts of the Allied Capital story were replayed in the debate over Lehman Brothers
Fooling Some of the People All of the Time is an important call for effective government regulation, free speech, and fair play.
Table of contents
Foreword.
Acknowledgments.
Allied Capital Stock Price Chart.
Who's Who.
Introduction: The Spark of a Speech.
Part One: A Charity Case and Greenlight Capital.
Chapter 1 Before Greenlight.
Chapter 2 Getting the "Greenlight".
Chapter 3 Greenlight's Early Success.
Chapter 4 Value Investing through the Internet Bubble.
Chapter 5 Dissecting Allied Capital.
Part Two: Spinning So Fast Leaves Most People Dizzy.
Chapter 6 Allied Talks Back.
Chapter 7 Wall Street Analysts.
Chapter 8 The You-Have-Got-to-Be-Kidding-Me Method of Accounting.
Chapter 9 Fact—Or Maybe Not.
Chapter 10 Business Loan Express.
Chapter 11 Disengaging and Re-engaging.
Chapter 12 Me or Your Lyin' Eyes?
Chapter 13 Debates and Manipulations.
Chapter 14 Rewarding Shareholders.
Chapter 15 BLX Is Worth What, Exactly?
Part Three: Would Somebody, Anybody, Wake Up?
Chapter 16 The Government Investigates.
Chapter 17 A Tough Morning.
Chapter 18 A Spinner, a Scribe, and a Scholar.
Chapter 19 Kroll Digs Deeper.
Chapter 20 Rousing the Authorities.
Chapter 21 A $9 Million Game of Three-Card Monte.
Part Four: How the System Works (and Doesn't).
Chapter 22 Hello, Who's There?
Chapter 23 Whistle-Blower.
Chapter 24 A Naked Attack.
Chapter 25 Another Loan Program, Another Fraud.
Chapter 26 The Smell of Politics.
Chapter 27 Insiders Getting the Money Out.
Part Five: Greenlight Was Right . . . Carry On.
Chapter 28 Charges and Denials.
Chapter 29 Charges and Admissions.
Chapter 30 Late Innings.
Chapter 31 The SEC Finds a Spot under the Rug.
Chapter 32 A Garden of Weeds.
Chapter 33 A Conviction, a Hearing, and a Dismissal.
Chapter 34 Blind Men, Elephants, Möbius Strips, and Moral Hazards.
Glossary.
About the Author.
Index.