Foreclosure Myths: 77 Secrets to Saving Thousands on Distressed Properties!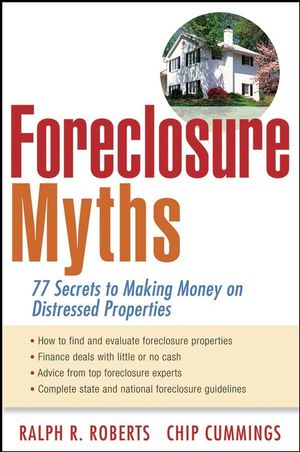 Foreclosure Myths: 77 Secrets to Saving Thousands on Distressed Properties!
ISBN: 978-0-470-28958-7
Aug 2008
224 pages
Product not available for purchase
Description
Learn the whole truth about foreclosures and discover some real bargains with the myth-busting information in Foreclosure Myths: 77 Secrets to Saving Thousands on Distressed Properties!. Find out the truth about seventy-seven persistent myths that prevent would-be homeowners and real estate investors from taking advantage of tremendous profit potential. Understand how to find, evaluate, and buy foreclosure properties at a discount, including how you can use other people's money to finance your investments through firsthand stories from top industry professionals and handy resources like government foreclosure guidelines.
Forword by (Dr. Gary Lacefield). Acknowledgments. About the Authors. Introduction. 1. Getting Started. Myth #1. I'm Taking Unfair Advantage of Someone Else's Misfortune. Myth #2. Foreclosures Only Happen in "Bad" Neighborhoods and During Economic Downturns. Myth #3. Foreclosures Are Always The Result of Financial Irresponsibility. Myth #4. The Average Person Can't Find Foreclosures—You Have To Be an Insider. Myth #5. I Need a Lot of Money to Get Started. Myth #6. If Foreclosure Rates Are Rising, Buying Doesn't Make Sense Because There Are Too Many Homes Already on the Market. Myth #7. The Process Is Incredibly Time-Consuming; There's No Way to Get Started If I Already Have a Full-Time Job. Myth #8. I Have To Be An Expert. Myth #9. Real Estate Agents Won't Help Me with Foreclosures—There's Nothing in It For Them. Myth #10. I Can Do This by Myself. 2. The Foreclosure Process. Myth #11. The Process Takes a Long Time. Myth #12. I Can't Get It—It's in Bankruptcy. Myth #13. I Can't Help Out The Homeowner. Myth #14. They'll Save the Property, and I'll Be Out My Time and Money. Myth #15. They Can Still Cancel the Sale. Myth #16. I Have to Wait Until It's Listed with a Real Estate Agent. Myth #17. It Was Published in the Paper, So I Can Buy It Now. Myth #18. I Have to Wait Until the Auction to Buy the Property. Myth #19. If I'm Not The High Bid At Auction, I Can Forget Buying The House. 3. Finding the "Right" Properties. Myth #20. Every Foreclosure Is a Good Deal. Myth #21. I'm Buying a Home at the Foreclosure Auction. Myth #22. Courthouse Auctions Are the Only Source of Foreclosure Properties. Myth #23. Real Estate Agents Always Have First Crack At The Good Deals. Myth #24. I Can Find Better Deals Outside My Own Area. Myth #25. Foreclosed Properties Are Always Trashed and Need Extensive and Costly Repairs. Myth #26. Something Else Is Wrong with the Property If It Was in Foreclosure. Myth #27. I Don't Need an Inspection. Myth #28. I Can't Get Inside, So There's No Way for Me to Estimate the Property Value. Myth #29. Never Bid on a Second Mortgage. 4. Analyzing the Deal. Myth #30. I Found the Opportunity Too Late—There's Not Enough Time. Myth #31. I Found the Opportunity Too Early—I'll Probably Waste My Time. Myth #32. I Can't Get a Good Deal Through a Real Estate Agent. Myth #33. I Can't Get a Good Deal from Bankruptcy. Myth #34. I Can't Get A Good Deal On a Government REO. Myth #35. I Can't Get a Good Deal from the Lender. Myth #36. The Purchase Price And My Fix-Up Costs Are The Only Costs I Need To Consider. Myth #37. I Should Adjust My Bidding Strategy Depending on How Many Bidders Show Up and How Eager. Myth #38. It Doesn't Matter Where Its Located; Since I'll Pay Well Below Market Value, the Location Isn't Important. Myth #39. I Shouldn't Bring in Experts to Help Me Analyze the Deal; the Fewer People Who Know It's Available, the Better. 5. Financing the Property. Myth #40. Interest on Loans from Private Investors Is Too High. Myth #41. Lenders Don't Want to Deal with Little Ole Me. Myth #42. Lenders Won't Be Willing to Talk to Me Until I Have a Deal on The Table. Myth #43. I Should Use as Much of My Own Money as Possible. Myth #44. I Can't Use FHA or VA Financing. Myth #45. I Can't Use a Home Equity Loan to Finance the Property, Since I Don't Own the Property Yet. Myth #46. Since The Property Is Already in Foreclosure, I Can't Assume the Owner's Loan. Myth #47. The Property Has to Be in Good Shape to Get Financing. Myth #48. Taking on a Partner Will Merely Cut into My Profits. 6. Securing the Property. Myth #49. Once I Purchase the Property at Auction, I Can Take Immediate Possession. Myth #50. Only Real Estate Pros Are Allowed to Attend Real Estate Auctions. Myth #51. There Will Be Lots of People Bidding against Me. Myth #52. The Higher The Bidding Goes, and the More People Bidding, the More Likely It's a Great Property. Myth #53. I Won't Be Able to Get Good Title to the Property. Myth #54. I'll Have to Pay the Back Taxes and Insurance. Myth #55. I Can't Force The Previous Owners to Vacate the Property. Myth #56. I Don't Need Insurance Until the Previous Owners Move Out and I Take Possession of the Property. 7. Cashing In! Myth #57. I Need to Finish Renovations Before I Sell. Myth #58. The More I Put into a Property, the More Return I'll Get. Myth #59. I'll Save Money and Make More Profit If I Make All Repairs and Upgrades Myself. Myth #60. I Can't Make A Profit. Myth #61. I Won't Be Able To Sell It – They Couldn't! Myth #62. I Already Have a Home; My Best Bet Is to Flip the Foreclosures I Purchase. Myth #63. The Property Will Be Easiest to Flip When It's Market Ready. Myth #64. It's a Foreclosure; I'll Still Make a $10,000 Profit! Myth #65. I Should Feel Guilty. 8. Avoiding Disaster. Myth #66. I'm an Experienced Real Estate Investor, So I Don't Need to Do My Homework. Myth #67. I Am Familiar with the House, So I Don't Need to Inspect It. Myth #68. The House Looks Great—It Won't Need Many Repairs! Myth #69. This House Is Amazing—It's Worth a Fortune! Myth #70. I Can Trust What the Homeowners Tell Me. Myth #71. If I Find Myself in Financial Difficulty, I'll Never Escape Foreclosure. Myth #72. I'll Be Able to Flip This House in a Couple of Weeks! Myth #73. If I Make Some Repairs Before I Take Possession of the Property, I'll Save Valuable Time. Myth #74. It's a Stretch, but I Think I Can Make an Extra $10,000 on This Property. Myth #75. I'm Making Good Money on Real Estate, but I Should Keep My Day Job. Myth #76. I've Put So Much Time into This Deal—I Refuse to Let Anyone Outbid Me! Myth #77. Foreclosure Investing Is Just Too Complicated—I Can't Do It. Appendix. Resources. Sample Forms & Checklists. State Foreclosure Guidelines. Index.