Forensic Accounting and Fraud Examination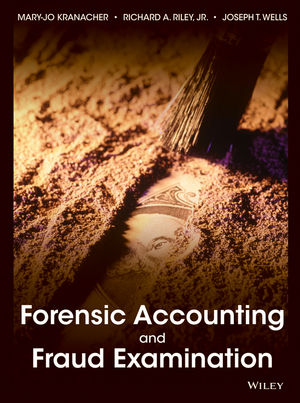 Forensic Accounting and Fraud Examination
ISBN: 978-0-470-57403-4 February 2011 560 Pages
Description
Forensic Accounting provides comprehensive coverage of fraud detection and deterrence and also includes broader educational material. The text follows the model curriculum for education in fraud and forensic funded by the U.S. national Institute of Justice and developed by a Technical Working Group of experts in the field. The text serves as a comprehensive and authoritative resource for teaching forensic accounting concepts and procedures. This easy to read, comprehensive textbook includes case study examples to clearly explain technical concepts and bring the material to life.
SECTION I
INTRODUCTION TO FRAUD EXAMINATION AND FINANCIAL FORENSICS
CHAPTER 1
CORE FOUNDATION RELATED TO FRAUD EXAMINATION AND FINANCIAL FORENSICS
CHAPTER 2
CAREERS IN FRAUD EXAMINATION AND FINANCIAL FORENSICS
SECTION II
CRIMINOLOGY, ETHICS, AND THE LEGAL, REGULATORY, AND PROFESSIONAL ENVIRONMENTS
CHAPTER 3
WHO COMMITS FRAUD AND WHY: CRIMINOLOGY AND ETHICS
CHAPTER 4
COMPLEX FRAUDS AND FINANCIAL CRIMES
CHAPTER 5
CYBERCRIME: COMPUTER AND INTERNET FRAUD
CHAPTER 6
LEGAL, REGULATORY, AND PROFESSIONAL ENVIRONMENT
SECTION III
DETECTION AND INVESTIGATIVE TOOLS AND TECHNIQUES
CHAPTER 7
FRAUD DETECTION: RED FLAGS AND TARGETED RISK ASSESSMENT
CHAPTER 8
DETECTION AND INVESTIGATIONS
CHAPTER 9
EFFECTIVE INTERVIEWING AND INTERROGATION
CHAPTER 10
USING INFORMATION TECHNOLOGY FOR FRAUD EXAMINATION AND FINANCIAL FORENSICS
SECTION IV
FRAUD SCHEMES
CHAPTER 11
CASH RECEIPT SCHEMES AND OTHER ASSET MISAPPROPRIATIONS
CHAPTER 12
CASH DISBURSEMENT SCHEMES
CHAPTER 13
CORRUPTION AND THE HUMAN FACTOR
CHAPTER 14
FINANCIAL STATEMENT FRAUD
SECTION V
FINANCIAL LITIGATION ADVISORY SERVICES AND REMEDIATION
CHAPTER 15
CONSULTING, LITIGATION SUPPORT, AND EXPERT WITNESSES: DAMAGES, VALUATIONS, AND OTHER ENGAGEMENTS
CHAPTER 16
REMEDIATION AND LITIGATION ADVISORY SERVICES
APPENDIX A
REFERENCES AND RESOURCES
APPENDIX B
FRAUD ACTS
GLOSSARY
INDEX
The "Fraudster's Perspective" integrates a real-world example with interviews, thoughts, and contributions by the former CFO of the "Crazy Eddie" fraud, Sam Antar.
Comprehensive coverage of the investigative process as well as an extensive array of tools and best practice techniques used to investigate fraud and financial forensic issues.
Emphasis on "cybercrime" and detecting fraud in the age of technology.
Focus on the psychology of fraud, different kinds of fraud schemes, and future career opportunities.
Discussion of remediation and litigation advisory services.
Focus on student comprehension with features such as chapter learning objectives, critical thinking exercises integrated throughout each chapter, and end-of-chapter review questions.
The foundation of the text is based upon National Institute of Justice's (NIJ) Model Curriculum for Education in Fraud and Forensic Accounting.

From "The Fraudsters Perspective" boxes infuse the textbook with real-world examples by adding the perspective of people who have actually committed these crimes.
Includes comprehensive coverage of fraud detection and deterrence and includes the broader educational material necessary for the forensic accounting field.

Case summaries bring concepts to life with specific current examples

The text is available with IDEA software. IDEA is a powerful and user friendly tool designed to help accounting and financial professionals extend their auditing and analytical capabilities, detect fraud and meet documentation standards.