Forensic Mental Health Nursing: Current Approaches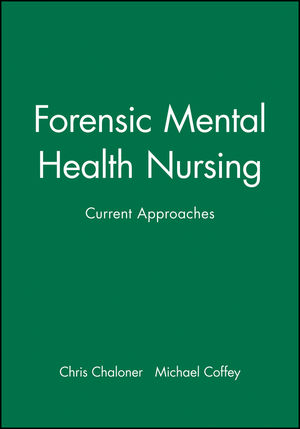 Forensic Mental Health Nursing: Current Approaches
ISBN: 978-0-632-05031-4 December 1999 Wiley-Blackwell 328 Pages
Description
Forensic Mental Health Nursing illustrates contemporary forensic mental health nursing practice within and beyond secure clinical environments.

This multi-authored book demonstrates the evolution of the nurse's role from its in-patient, secure-services origins to the diverse sub-specialism of mental health nursing that exists today. Specific practice-based issues, such as the care and management of sex offenders and personality disordered individuals, are addressed, together with an exploration of topics including the skills and knowledge base of forensic mental health nursing, the development of the forensic nurse's role and the challenges of community services provision. Individual chapters are devoted to issues such as psychosocial interventions, the assessment and management of risk, diversion from the Criminal Justice System, ethnicity and the ethical aspects of practice.

This book will be of interest to forensic mental health nurses, those who may be contemplating a career in this area, and to members of the other professional groups involved in the management and provision of care and treatment within forensic mental health settings. It will provide a primary resource text for students studying in this area.
Chapter 1. Characteristics, Skills, Knowledge and Inquiry.
Chapter 2. Working with Adolescent Patients.
Chapter 3.Working with Sex Offenders.
Chapter 4. Working with the Offender Patient with Psychosis.
Chapter 5. Working with Learning Disabled Offenders.
Chapter 6. Working with the Personality Disordered Offender.
Chapter 7. The Experience of Black Mentally Disordered Offenders.
Chapter 8. Risk Assessment and Management.
Chapter 9. Developing Community Services.
Chapter 10. Diversion from the Criminal Justice System.
Chapter 11. Relatives and Informal Caregivers.
Chapter 12. Psychosocial Interventions.
Chapter 13. Addressing Issues of Sexuality.
Chapter 14. Ethics and Morality.
Chapter 15. History and Development
"Chaloner & Coffey have assembled an impressive collection of contributors for what is likely to become a standard text...for a sound exploration of theory this is an excellent starting point"
Nursing Times
"... one of the most informative texts in this field . it is
whole-heartedly recommended to all those practitioners, researchers
and academics with an interest in forensic mental health nursing"
Mental Health Practice

"The book contains excellent material …It addresses – with confidence and conviction – forensic mental health nursing theory and practice in a deliberately and convincingly practical manner. It is timely, relevant and superbly written."

"It is essential reading for anyone interested in contemporary mental health care, research and development."

Australian and New Zealand Journal of Mental Health Nursing

"Overall this is a bright and illuminating collection of papers that all strive to approach their topics in new and original ways"


Mental Health Care & Learning Disabilities
* Critical examination of the evidence base for practice
* Set in context of multi-professional/multi-agency services
* Case studies used to illustrate practice situations
* Suggestions for future development and further inquiry