Forensic Psychology and the Law, Canadian Edition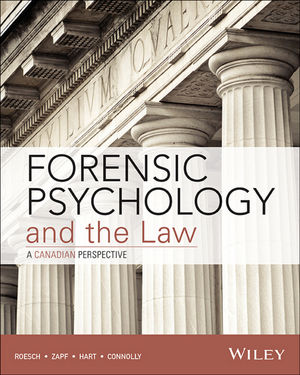 Forensic Psychology and the Law, Canadian Edition
ISBN: 978-1-118-72736-2
Oct 2013
432 pages
Product not available for purchase
Description
Introduction to Forensic Psychology introduces students to the theories and practices of forensic psychology within the framework of Canadian society and legal contexts. It is written from an applied and community oriented perspective, which is designed to engage students in this exciting field, while giving them an accurate view of the true nature of forensic psychology. This text emphasizes those areas of forensic psychology where professionals spend the majority of their time, be it in clinical settings, research settings, or the application of research to clinical practice. Additionally, a separate chapter was included on Children and the Law to highlight this growing and important area of research and practice in forensic psychology.
Introduction to Forensic Psychology
The Canadian Legal System: An Overview
Forensic Assessment in Criminal Domains
Forensic Assessment in Civil Domains
Forensic Treatment
Children and the Law
Juveniles in the Legal System
Eyewitness Testimony: Memory and Identification
Police Investigations, Interrogations, and Confessions
Police Psychology
Juries and Legal Decision Making
Correctional Psychology
This text has a unique focus on Canadian law integrated throughout, with Chapter 2 dedicated to providing an overview of Canadian law and the Canadian justice systems, both criminal and civil. This teaches students the context within which the research applies.
Our coverage of civil forensic psychology is unique amongst our competitors. This is a rapidly growing area of research and practice for psychologists who specialize in the legal application of their work.
There is a strong focus on the practical application of forensic psychology in the real world with real examples that give students a more accurate reflection of what careers in this field are really like.
There is a separate chapter on Children and the Law, another growing and important area of research and practice in forensic psychology.
New case materials have been added that are relevant to Canadian students and include critical thinking questions. These are real-world cases illustrating chapter topics and concepts.
We have put concepts in context with case studies in every chapter and comparisons to practice in other countries and cultures.
A section on ethics and professional issues is a key strength and distinguishes the text from our competitors.
Each chapter begins with a chapter opening vignette – a brief, interesting example to introduce the chapter topic and engage students' interest.
End-of-chapter discussion questions – approx. 5 to 10 questions to help students review and assess their understanding of the chapter material.
Key term margin definitions have been added.