Forensic Science in Court: The Role of the Expert Witness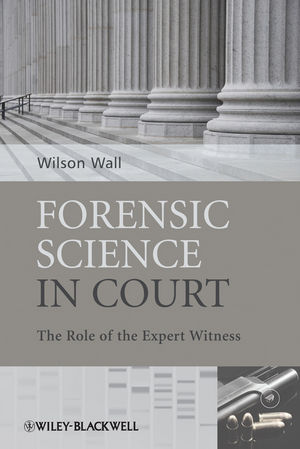 Forensic Science in Court: The Role of the Expert Witness
ISBN: 978-0-470-74333-1
Oct 2009
176 pages
Description
Forensic Science in Court: The Role of the Expert Witness is a practical handbook aimed at forensic science students, to help them prepare as an expert witness when presenting their evidence in court. Written in a clear, accessible manner, the book guides the student through the legal process and shows them how to handle evidence, write reports without ambiguity through to the more practical aspects of what to do when appearing in court. The book also offers advice on what to expect when working with lawyers in a courtroom situation.

An essential text for all students taking forensic science courses who are required to take modules on how to present their evidence in court. The book is also an invaluable reference for any scientist requested to give an opinion in a legal context.

·         Integrates law and science in an easy to understand format 

·         Inclusion of case studies throughout 

·         Includes straightforward statistics essential for the forensic science student 

·         An invaluable, practical textbook for anyone appearing as an expert witness in court 

·         Unique in its approach aimed at forensic science students in a courtroom environment 
Preface.
1 Where The Law Comes From: You Don't Mess About With The People.
2 The Legal System and How It Works.
2.1 A brief look at the court structure.
2.2 The adversarial system.
2.3 Criminal cases.
2.4 The expert.
2.5 Witnesses.
2.6 Judgments.
2.7 Justification of the expert.
2.8 Civil cases.
2.9 Magistrates' Court.
2.10 The Crown Court.
2.11 The High Court.
2.12 The Courts of Appeal.
2.13 Small Claims Court.
2.14 Arbitration.
2.15 The Coroner's Court.
2.16 Courts martial.
2.17 Contempt.
3 Rules of Evidence as They Apply to an Expert Witness.
4 Appointment of Experts and the Written Report.
5 The Expert Forensic Scientist in Court.

6 Statistics and Statistical Inferences.
7 Ethical and Scientific Considerations for the Forensic Scientist.
Appendix: Methods of Quoting Published Law Reports in Various Jurisdictions.
Glossary of Commonly Used Terms and Phrases.
Index.
"In conclusion, the book is well written generally with captions quoting historical references, case studies etc. which support the points being raised in each chapter." (Fingerprint Whorld, 1 February 2011)

Integrates law and science in an easy to understand format 
Inclusion of case studies throughout 
Includes straightforward statistics essential for the forensic science student 
An invaluable, practical textbook for anyone appearing as an expert witness in court 
Unique in its approach aimed at forensic science students in a courtroom environment