Forest Entomology: Ecology and Management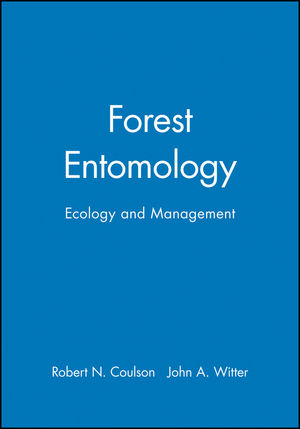 Forest Entomology: Ecology and Management
ISBN: 978-0-471-02573-3
May 1984
688 pages
Description
This text considers forest insects occurring in forest ecosystems, specialized forestry settings, and urban forests, with an approach and coverage that make it suitable for use in both undergraduate and graduate courses in forest entomology and forest protection. Early chapters introduce entomology, middle chapters provide the first comprehensive treatment of the principles of Integrated Pest Management (IPM) of forest insects, and later chapters discuss the pest insects according to their feeding group.
GENERAL ENTOMOLOGY.

Introduction to Insects.

Insect Structure and Function.

Insect Classification.

Insect Damage and Sign Categories.

PRINCIPLES AND TECHNIQUES OF INTEGRATED PEST MANAGEMENT.

Concepts of Integrated Pest Management.

Population Dynamics of Forest Insects.

Population Dynamics of Forest Trees in Relation to Phytophagous Insects.

Principles of Population Modification and Regulation Using Artificial and Natural Agents.

Impact Assessment.

Monitoring Pest Populations and Forest Stands.

INSECT FEEDING GROUPS.

Defolating Insects.

Sapsucking Insects and Mites.

Terminal, Shoot, Twig, and Root Insects.

Seed and Cone Insects.

Phloem Boring Insects.

Wood Boring Insects.

Gall Makers.

Arthropod Pests in Recreational Areas.