Forests: Nature, People, Power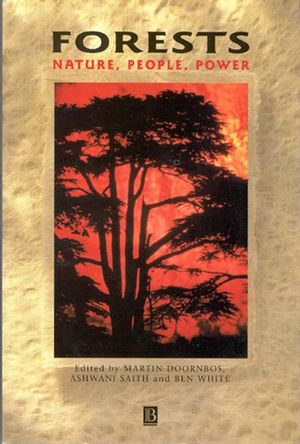 Forests: Nature, People, Power
ISBN: 978-0-631-22188-3
Aug 2000, Wiley-Blackwell
372 pages
Description
The papers in this volume highlight in various ways the complex articulations of local processes and global forces in tropical forest struggles. Taken together, they show how social science research has come of age, moving beyond the crude 'tragedy of the commons' and 'prisoner's dilemma' approaches of the 1970s and early 1980s.
1. Forest Lives and Struggles: An Introduction (Martin Doornbos, Ashwani Saith and Ben White, Institute of Social Studies, The Hague).
2.Development Discourses and Peasant-Forest Relations: Natural Resource Utilization as Social Process (Anja Nygren, Department of Anthropology, University of Helsinki).
3. Fashioned Forest Paths, Occluded Histories? International Environmental Analysis in West African Locales (Melissa Leach, Institute of Development Studies, University of Sussex; and James Fairhead, School of Oriental and African Studies, University of London).
4. State Sciences and Development Histories: Encoding Local Forestry Knowledge in Bengal (K. Sivaramakrishnan, Department of Anthropology, University of Washington, Seattle).
5. The Changing Regime: Forest Property and Reformasi in Indonesia (John F. McCarthy, Asian Research Centre, Murdoch University, Western Australia).
6. Balancing Politics, Economics and Conservation: The Case of the Cameroon Forestry Law Reform (Francois Ekoko, UNDP/BDP/SEED, New York).
7. People in Between: Conversion and Conservation of Forest Lands in Thailand (Jin Sato, Institute of Environmental Studies, Graduate School of Frontier Sciences, University of Tokyo).
8. Resettlement, Opium and Labour Dependence: Akha-Tai Relations in Northern Laos (Paul T. Cohen, Department of Anthropology, Macquarie University, Sydney).
9.Environmentalists, Rubber Tappers and Empowerment: The Politics and Economics of Extractive Reserves (Katrina Brown, School of Development Studies, University of East Anglia, Norwich; and S'rgio Rosendo, University of East Anglia, Norwich).
10. Maintaining Centralized Control in Community-based Forestry: Policy Construction in the Philippines (Richard Gauld, Department of Geography, King's College London).
11. Unpacking the 'Joint' in Joint Forest Management (Nandini Sundar, Institute of Economic Growth, Delhi).
12. Community Forestry and Tree Theft in Mexico: Resistance or Complicity in Conservation? (Dan Klooster, School of International and Public Affairs, Columbia University, New York).
13. Remote Sensibilities: Discourses of Technology and the Making of Indonesia's Natural Disaster (Emily E. Harwell, Yale School of Forestry and Environmental Studies).
14. From Timber to Tourism? Recommoditizing the Japanese Forest (John Knight, School of Anthropological Studies, Queen's University of Belfast).
Notes on Contributors.
Index.
This collection questions various received wisdoms concerning deforestation and other aspects of forest landscape history
The well-researched contributions to this volume highlight several complex articulations in tropical forest struggles
This book offers refreshing new perspectives and original, well-informed scholarship, on a topic of global significance.