Forex Analysis and Trading: Effective Top-Down Strategies Combining Fundamental, Position, and Technical Analyses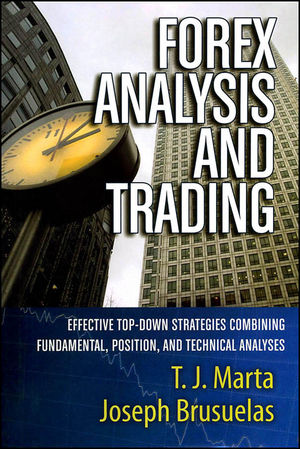 Forex Analysis and Trading: Effective Top-Down Strategies Combining Fundamental, Position, and Technical Analyses
ISBN: 978-1-119-20436-7 October 2015 261 Pages
Description
The forex market is huge and offers tremendous trading opportunities. There are many different tools for analyzing the forex market. But what are the best tools and the best ways to use them to trade most effectively?

Forex Analysis and Trading organizes the most widely used—although disparate—approaches to forex analysis into one synergistic, robust, and powerful framework. This system draws on fundamental, position, and technical analyses to identify profitable currency positions, enabling traders to make the best decisions regarding major currencies.

Marta and Brusuelas are forex trading professionals with years of experience analyzing and trading every major currency.
Introduction.
PART I Fundamental Analysis.
Chapter 1 Purchasing Power Parity.
Chapter 2 Real Exchange Rates and the External Balance.
Chapter 3 Exchange-Rate Determination over the Medium Term: Parity Conditions, Capital Flows, and Current Account.
Chapter 4 Fair-Value Regressions.
PART II Market Sentiment and Positioning.
Chapter 5 Futures Non-Commercial Positioning.
Chapter 6 Risk Reversals.
PART III Technical Analysis.
Chapter 7 Trend-Following Indicators.
Chapter 8 Oscillators.
Chapter 9 Technical Pattern Recognition.
Case Studies.
Conclusion.
Index.