Forex on Five Hours a Week: How to Make Money Trading on Your Own Time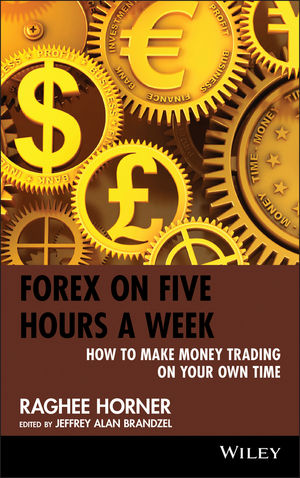 Forex on Five Hours a Week: How to Make Money Trading on Your Own Time
ISBN: 978-1-119-19850-5
Oct 2015
208 pages
Description
A top forex trader reveals how to ease into this market and excel
Trading the forex market has become one of the most popular forms of trading, mainly because of its twenty-four-hour access and the fact that there is always a bull market available in this arena. But not everyone is interested in quitting their jobs and spending all day trying to make a living trading. That's where Forex in Five Hours a Week comes in. This book shows readers how they can master a few techniques, focus their efforts on their choice of time frame, and profit in the forex market. Readers with a day job and little time to dedicate to the market will learn all they need to know to capture consistent profits
Preface.
Acknowledgments.
CHAPTER 1 Making Money in Up and Down Markets.
Fill in the Blanks.
A Bull Is on the Loose!
Shorting.
CHAPTER 2 Full-Time Trading = Full-Time Job.
Employee Mindset.
Confessions of a Chart Junkie.
Analyzing the Market.
Identify the Trend.
Time Frames.
CHAPTER 3 The Wave.
Sinking, Soaring, or Sideways?
Market Cycles.
A Wish.
Market Memory.
Trade with Price.
CHAPTER 4 Objectivity.
Indicators.
Order Entry.
Stop Loss.
Risk Management.
Trendlines, Support, and Resistance.
Static and Dynamic Lines.
CHAPTER 5 The Magic of Lazy Days Lines.
Fibonacci Analysis.
Lazy Days Lines at Work.
Using Lazy Days Lines.
The Wave in Action.
Real-Life Lazy Days Lines.
Comprehension + Confirmation = Confidence.
CHAPTER 6 The Only Entries You Need.
Momentum Trading.
Swing Trading.
Short Cycle Set-Ups.
Inside the Range.
CHAPTER 7 Around the World.
Who's Awake?
Financial Centers You Need to Know.
Prime Time!
Pip Movement.
A Day with the EUR/USD.
Time Out!
Choosing Your Trading Time.
CHAPTER 8 Market Pulse.
U.S. Dollar Index and USD/CAD.
U.S. Dollar Index and AUD/USD.
CHAPTER 9 Trading Psychology.
Stay in Balance.
The Role of Experience.
Trading for Real.
The Psychology of Market Cycles.
The Psychology of News.
The Psychology of Time.
The Psychology of Numbers, Entries, and Exits.
CHAPTER 10 Psychological Numbers.
Using the Herd.
The 200 SMA.
52-Week Highs and Lows.
CHAPTER 11 Trading Edge.
The Right Side of the Chart.
Consumer Confidence.
Risk Appetite.
Sell the News.
CHAPTER 12 Is My Broker Friend or Foe?
The 2 Percent Question.
Stop Loss Placement.
Triage.
Trading Truths.
CHAPTER 13 Embracing Automation.
Charting Tools.
Profit Targets.
Fifteen-Minute Set-Ups.
CHAPTER 14 Raghee Recommends.
Final Thoughts.
Index.