Form, Matter, and Mixture in Aristotle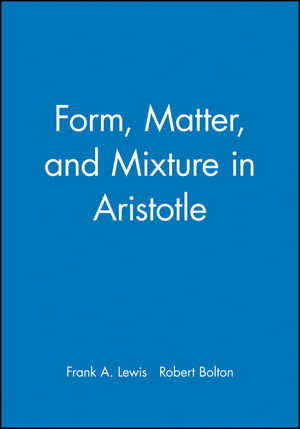 Form, Matter, and Mixture in Aristotle
ISBN: 978-0-631-20092-5 March 1997 Wiley-Blackwell 300 Pages
Description
Explores different applications of Aristotle's hypothesis on the components of form, matter and pyschological states.
1. Keeping the Matter in Mind: Aristotle on the Passions and the Soul: Michael Wedin (University of California, Davis).
2. Aristotle on the Unity of Substance: Frank A. Lewis (University of Southern California).
3. The Problem of Mixture: Kit Fine (UCLA).
4. Fire in the Belly: Aristotelian Elements, Organisms and Chemical Compounds: James Bogen (Pitzer College).
5. Potentiality in Aristotle's Science and Metaphysics: Alan Code (Ohio State University.).
6. Science and the Science of Substance in Aristotle's 'Metaphysics': Robert Bolton (Rutgers University).
* A challenging exploration of Aristotelian concepts of form and matter.