Form Based Codes: A Guide for Planners, Urban Designers, Municipalities, and Developers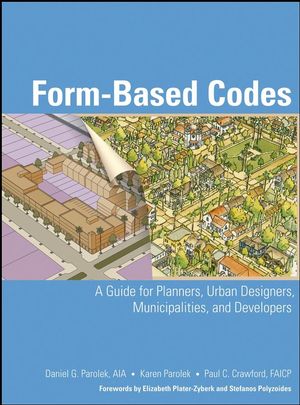 Form Based Codes: A Guide for Planners, Urban Designers, Municipalities, and Developers
ISBN: 978-0-470-04985-3 March 2008 336 Pages
Description
A comprehensive, illustrative guide to Form-Based Codes

""This volume describes in clear argument and significant detail the issues and techniques associated with the design and management of Form-Based Codes as an antidote to zoning and sprawl. Reading it and putting it to practice is an excellent point of departure for individuals and municipalities to safeguard and to grow their communities.""
- From the Foreword by noted architect and urbanist Stefanos Polyzoides

Form-Based Codes are the latest evolutionary step in the practice of development and land-use regulation. A growing alternative to conventional zoning laws, Form-Based Codes go beyond land use to address not just the physical form of buildings but also surrounding streets, blocks, and public spaces in order to create, protect, and revitalize sustainable communities.

Written by three recognized leaders in the field of New Urbanism, including an urban planner and an architect, this book is the first to address this subject comprehensively. After defining Form-Based Codes and explaining why they are a necessary alternative to conventional zoning regulations, the authors detail the various components of Form-Based Codes and then go step by step through the process of creating and implementing them. Finally, a series of case studies illustrates best practice applications of Form-Based Coding at various scales from county-wide to site specific, and various project types from city-wide development code replacement to the preservation or evolution of downtowns.

This timely and accessible text features:
* More than 200 clear illustrations of Form-Based Codes
* Studies of real-world applications of Form-Based Coding by leading planners, urban designers, and architects

Form-Based Codes is a must-read for today's urban designers, urban planners, architects, and anyone with a vested interest in utilizing the latest regulatory tool to help create compact, walkable, and sustainable communities.
Buy Both and Save 25%!
Original Price:$175.00
Purchased together:$131.25
save $43.75
Cannot be combined with any other offers.
Buy Both and Save 25%!
Original Price:$185.00
Purchased together:$138.75
save $46.25
Cannot be combined with any other offers.
Buy Both and Save 25%!
Original Price:$215.00
Purchased together:$161.25
save $53.75
Cannot be combined with any other offers.
Foreword(s).
Preface: Expecting More From Zoning.
Chapter 1: Introduction.
Form-Based Codes Defined.
The Trouble With Conventional Zoning.
Chapter 2: Components.
The Regulating Plan.
Block Standards.
Public Space Standards.
Building Form Standards.
Frontage Type Standards.
Building Type Standards.
Architectural Standards.
Code Administration.
Chapter 3: Process.
Pre-Phase 1: Scoping.
Phase 1: Documenting.
1.1 Macro Scale.
1.2 Micro Scale.
Phase 2: Visioning.
2.1 Illustrative Plan and Imagery.
2.2 Regulating Plan and Regulations.
Phase 3: Assembling.
3.1 Splicing.
3.2 Formatting.
Chapter 4: Case Studies.
Santa Ana Renaissance Specific Plan (Santa Ana, California).
Downtown Master Plan and FBC (Benicia, California).
Miami 21 SmartCode (Miami, Florida).
Development Code Update and FBC (Grass Valley, California).
TOD SmartCode (Leander, Texas).
Heart of Peoria Land Development Code (Peoria, Illinois).
FBC for Mixed-Use Infill (Sarasota County, Florida).
Towns, Villages, Countryside (St. Lucie County, Florida).
Ventura, California.
Montgomery, Alabama.
Chapter 5: Supplemental Material.
Timeline.
Common Mistakes.
Bibliography and References.
""Measured and thoughtful, Form-Based Codes is an intelligent how-to. Like a good textbook, the thoughts build one upon the other until you can see the clarity and wisdom of shedding your city's zoning and moving to an enlightened future based on form rather than use."" (
Planetizen.com
; 11/24/08)
""The term form-based, though coined in 2001, actually evolved from the seminal Seaside, Florida, design of 1981. But fundamental misunderstandings about eh specifics of its components, visioning process, and implementation continue to this day because no comprehensive reference source has been available. The purpose of this book is to fill that gap, and it succeeds admirably. In essence what the authors have presented is a step-by-step, highly detailed textbook."" (Urban Land, June 2009)
""…explains the purposes of form-based codes (FBCs) and explores the ins and outs of their creation, authorization, and implementation."" (New Urban News, April-May 2008)
Authored by Daniel and Karen Parolek, who are recognized as leaders in New Urbanism and as founding members of the board of directors of the Form-Based Codes Institute •     Includes about 200 drawings illustrating form-based codes, making the concept easy to understand for all audiences •     The only book specifically on form-based codes, with a high degree of detail and specificity •     Form-based codes primarily regulate the physical form of buildings and reinforce a framework of streets, blocks, and public spaces •     Includes case studies of projects by leading urban designers and architects from across the United States